Things You'll Need
Boiled linseed oil

Turpentine

Floor squeegee

Medium-grit sandpaper

Broom

Clean cloths

Bucket

Car buffer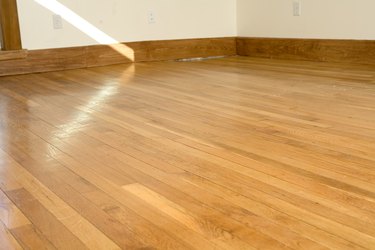 Linseed oil is a penetrating finish on hardwood floors that does not form a sealant on the wood like polyurethane, but instead acts as a stain that enhances the look of your floors. By not coating the wood or giving it a shiny appearance, linseed oil presents the wood in a natural way while still giving it the darkened appearance of staining. Since the linseed oil is initially applied as a saturating coating, it can soak into open-grain woods like oak and ash.
Step 1
Sand the floor with a medium-grit sandpaper, making sure any rough areas smoothed out. Sweep all dirt and sawdust from the area.
Step 2
Make a mixture of four parts of boiled linseed oil to one part of turpentine. Raw linseed oil will have trouble curing so use only boiled linseed oil. Heat the mixture and make sure the area you are working in is properly ventilated. Otherwise, the fumes from the mixture could pose a health risk to you.
Step 3
Pour the mixture on the floor, spreading it around so that it covers the entire area with a thin layer of the mixture. Allow it to soak into the wood for half an hour. Any excess can be removed with a floor squeegee. Wipe the floor with clean, soft cloths to remove any final wet spots. Allow the floor to set unused for two days.
Step 4
Apply a second coat the same as the first coat was applied in step 3. Allow this to set for one day. All of the excess mixture must removed before allowing each coat to set. Too much mixture left on the floor will hinder drying and encourage mildew.
Step 5
Add an option a final coat. A final coat can also be applied to give the floor a slight sheen. Mix 1 cup of satin spar varnish and 1 quart of the linseed oil and turpentine mixture. Apply this mixture to the floor as done with the mixture in step 3, though it needs to set for only one day.
Step 6
Use a car buffer and rub the buffing cloth on the floor as you would if you were sanding the floor.
Tip
Check the label carefully of the linseed oil to make sure it is truly boiled rather than simply having chemicals added to allow it to dry faster.