OSB (oriented strand board) is made by compressing and gluing wood chips into 4-by-8 sheets of wall, roof and floor sheathing. It is extremely durable as long as it remains dry. Mostly, it is used in place of plywood because it is cheaper and readily available. OSB can be used for laminate floor underlayment, but certain conditions must be met to use it successfully. If you are considering using OSB as underlayment for your laminate floors, then you should know about the pros and cons of its use under certain conditions.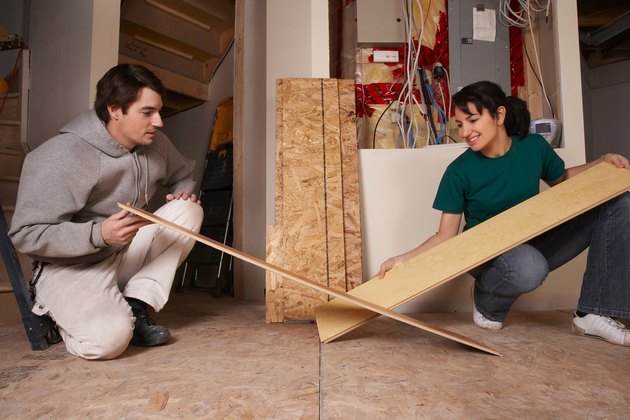 credit:
Jupiterimages/Photos.com/Getty Images
Qualities and Installation
OSB can be purchased in 1/2- or 3/4-inch-thick sheets. One side has a polyurethane coating that protects the material from water, and the other side has no finish at all. The board must be installed with the coated side facing out to be successful as floor underlayment. Another great feature of OSB is that it can be purchased as tongue-and-groove sections, which will fit together to form a monolithic sheathing that will strengthen your floor. OSB floor underlayment should be installed on your floors using three-inch wood screws and construction adhesive. Installing the OSB without construction adhesive will result in squeaking floors later on after the screws have loosened. OSB should be installed at 90-degree angles to the joists of your floor and staggered so that the end of each sheet lands half way between the previous sheets. It is always good to apply several coats of interior primer to the underlayment before installing the laminate flooring over the top; this will serve as a double layer of moisture protection.
The major problem with using OSB as an underlayment for your laminate flooring is water exposure. If your OSB gets wet, it will swell over time and cause a bulge in your flooring. The fibers within the OSB absorb water like a sponge--although the protective coating that is applied at the factory serves to protect against water infiltration. There is a way to avoid this problem, however. Just make sure that the underlayment is installed with the shiny side up, always. You can also lay down felt paper over the top of the OSB underlayment before you install your laminate flooring. The felt paper will help repel water as well.