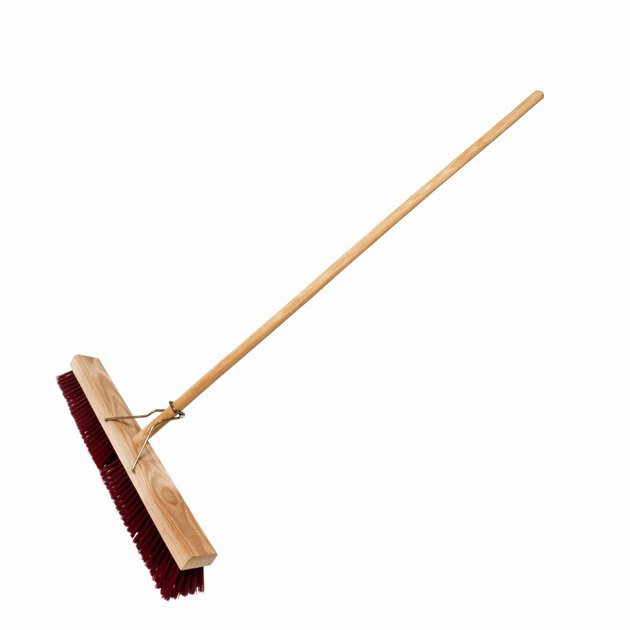 Many people assume that new construction homes will be clean when they move in because nobody has lived in them before. However, most new construction homes have construction messes leftover that the new homeowners must clean before moving in. Unfinished basement floors can be dusty and dirty, but cleaning them is straightforward, and you'll feel much better about moving your storage items into a clean area.
Cleaning the Floor
When dealing with a dusty concrete floor in a new construction building, focus first on getting rid of debris. Use a broom to sweep up as much dust as possible as well as any bigger items that may be leftover from construction. Don't get anything wet at this point in your cleaning.
After the bigger pieces are discarded, try using a shop-vac. A shop-vac will help you to get into cracks and crevices and will prepare the floor for wet cleaning. If the home has been vacant for long, you may have spider webs as well as dust. The shop-vac is the best way to clean the webs.
A thorough mopping will finish the job of cleaning your unfinished floor. There are several ways to go about mopping concrete. You can use a traditional rope mop and bucket, but it's not necessary to get a concrete floor so wet. You can use a Swiffer covered in a wet rag to mop the floor. Use a mild detergent or a vinegar/water solution, and ring the rag out thoroughly before attaching it to the Swiffer. The water will help to pick up any remaining dust, and the detergent will wipe out any microbes that have found their way into the house on construction workers' boots.
In humid climates, the concrete may take a while to dry out. Don't put any of your storage boxes on top of a wet concrete floor. You can place fans around the basement to speed the drying process, if necessary. Otherwise, allow it to air dry by opening the windows.
---
Rachel Terry has a Bachelor of Arts in English from Brigham Young University. She has been a freelance writer since 1998, authoring literary study guides, as well as articles and essays.