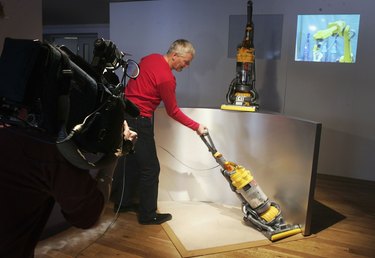 The Dyson vacuum, with its innovative bagless technology and the promise of never losing suction, makes it an essential tool for cleaning. Dyson builds their vacuums to be powerful and uncomplicated, with the user in mind. Operating your Dyson vacuum is a simple matter of knowing how the hose, wand and tools attach to the machine.
Dyson Vacuum
The Dyson upright vacuum has a 17-foot hose that is connected to the back of the vacuum body. The handle you push is called the wand. The wand has a long metal barrel that slides inside the other end of the hose. The hose cuff on the end of the hose is neatly stored inside the handle unit. Once the wand is removed from the hose you can reverse it and mount attachments for canister style cleaning.
Remove the Wand
The wand is released from the vacuum body after you press the release latch on the front of the handle mechanism directly above the power button. You can pull the handle upward to guide the wand out of the bracket that holds it in place.
To detach the hose from the wand, you use a gentle grip to slide the hose down the wand until the hose cuff clicks in place near the end of the wand. You can remove the hose completely by pressing the locking button on the plastic cuff of the hose and pulling it off. To use attachments, you just attach the hose to the handle end by sliding the plastic vent open and pushing the hose cuff in place. Twist attachments on the free end of the metal wand.
Remove the Hose
The hose release button is behind the clear cyclone bin, and to reach it you have to remove the clear bin. This is done by grabbing the handle on the clear bin, pushing the release button toward the vacuum, and removing the clear bin. The hose release button is on the body of the vacuum near the bottom where the clear bin is normally attached. You hold the lower cord winder, found on the back of the machine, while pressing the hose release button to gently remove the hose completely from the vacuum. This is a useful technique to know if you vacuum up something that causes blockage in your hose.
Tips
To replace the wand or hose just follow the directions in reverse. For safety reasons, the Dyson should be unplugged from the wall outlet before removing the hose.