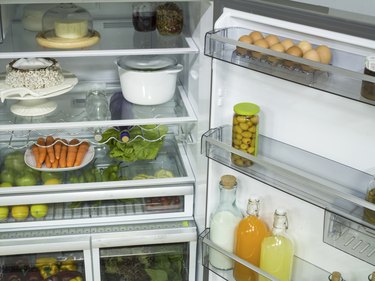 We often take refrigerators and freezers for granted until they breakdown. At that point, their repair or replacement becomes an emergency, often with a big mess to clean up. But if you keep in mind the expected lifetime of your specific unit, you can save up to buy a newer model -- with the added benefit of updated features and increased energy efficiency -- before the old one gives up the ghost.
Average Life Expectancy
Refrigerators with freezers have average lifespans of 14 to 17 years, according to the National Association of Realtors. But freezers can last an average 16 years. As with other appliances and machines in general, the older a refrigerator or freezer gets, the more costly the repairs it requires to maintain good performance. But keeping refrigerators and freezers clean and well-maintained can help extend good performance and lifespan.
Repair vs. Replace
A refrigerator or freezer making odd sounds or repeatedly cycling needs at least a repair. Consumer Reports recommend buying a new appliance if the cost of a repair is more than half the price of a new one. But even minor problems can reduce the efficiency of refrigerators and freezers. Repair built-in refrigerators within their first eight years and consider replacement after that, while side-by-sides should be repaired within five years and considered for replacement after five. Bottom-freezers should be repaired within seven years and considered for either repair or replacement after that. Top-freezers should be replaced when seven or more years old.
Energy and Other Considerations
Breakdowns and costly repairs aren't the only reason for replacing refrigerators and freezers. They are frequently replaced for reasons such as a kitchen remodel that includes an appliance upgrade for new features or if family size changes. Today's models also use less energy than older ones, saving consumers money over the long-term. To save energy costs, Energy Star.gov recommends replace refrigerators and freezers manufactured before 1993, as they are not energy efficient. Those manufactured between 1993 and 1999 can be considered for replacement if the energy rates where they're located are higher than the national average. Be aware that side-by-side refrigerators use 25 percent more energy than other models. Updated government standards requiring new refrigerators and freezers to use less energy also go into effect September 15, 2014.
Extending Life Expectancy
Vacuuming fan and condenser coils on the back or bottom of refrigerators at least annually can save energy and extend the lifespan of your model. As can checking door seals for tightness and replacing loose, cracked or torn ones. Cleaning up any spills or stains that may prevent doors and drawers from closing right also helps. Frost should never build up in freezers and ice-makers. Defrost these according to manufacturer's recommendations.
Recycling -- Out with the Old
Refrigerators and freezers contain refrigerants, oils and other compounds that federal law requires be removed and recovered to prevent environmental damage. Steel and other components can be recycled. To recycle a refrigerator or freezer, purchase the new appliance from a retailer that participates in a recycling program, who will pick up and recycle the old appliance to government regulations. Or, contact local utility or waste management companies for information on other local programs that meet government requirements. Some companies pay consumers to recycle old refrigerators and freezers, as do some scrap metal companies.