A tiny chip on an otherwise pristine expanse of tile flooring can ruin the aesthetic effect. Chips happen, and when they do, there are a number of ways to eradicate them from the surface of the tile. Whether it's a small pit, deep divot or gaping gash, chips on tile can be filled, sanded, blended in or blasted out.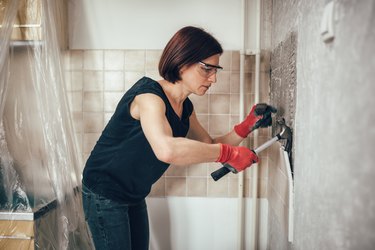 How to Repair Chipped Tile
Use a toothbrush or grout cleaner brush to remove any loose bits of ceramic or dust and dirt that has gathered in the depth of the chip. No matter how small, any debris inside the cavity of the chip will keep the epoxy or other filler from adhering to the tile piece. Clean out the area with a mix of mild detergent and water and let it dry for a few hours or overnight if possible. It should be completely dry before you add the adhesive.
Slightly overfill the chip with the chosen tile repair epoxy. If using color, mix the epoxy with the favored hue until the correct color is created. Remember that the filler will more than likely dry a shade darker than when it was a wet mix. Quickly use a putty knife or leveling tool from a kit to smooth the filler over the area and deep into the crevices of the chip. Use the leveling tool to blend excess into the top of the ceramic tile and gently wipe away unwanted filler with a clean cloth. Let it dry for a few hours before gently sanding down any leftover lumps with a few quick strokes of the finest-grit sandpaper.
Tile Repair Kit
A compact ceramic tile repair kit will include an assortment of fillers and repair epoxy as well as a handy leveling tool to apply the filler into the damaged area and possibly different shades of filler to best match the ceramic tile you are mending. Any tile crack repair epoxy is good to have on hand. It will easily and quickly fill chips as you find them. A little dab of the ceramic tile filler can keep the chip from creating cracks in the floor as guests – both two and four legged – walk over the damaged ceramic tile until you can do a more thorough job of matching the color and gloss. This works best for large chips that can ruin the entire piece of tile, rendering it useless to repair and possibly unsafe.
When to Replace Tile
If the chip has sprouted legs and created sprawling cracks from the main mar, you may need to replace the entire piece or pieces of tile. If you have saved any tile from the installation, then you have a relatively easy repair on your hands. If not, you may need to be a bit more invasive in how you go about not only repairing the chipped tile but in getting the newly purchased or found tile to blend in well. Shop around at renovation warehouses and junkyards to find tile that may match yours. If you have the skew or exact name of the brand and color, a quick internet search may turn up a good match for your project. If you have to find the best match possible from a big-box improvement store, remove the chipped tile and take it with you. This will allow the best chance of finding a close match to the tiles you hope to integrate.
---
Kimberley McGee is an award-winning journalist with 20+ years of experience writing for a variety of clients, including The New York Times, Las Vegas Review-Journal Home section and other national publications. As a professional writer she has researched, interviewed sources and written about home improvement, interior design and related business trends. She earned a B.A. in Journalism from the University of Nevada, Las Vegas. Her full bio and clips can be viewed at www.vegaswriter.com.