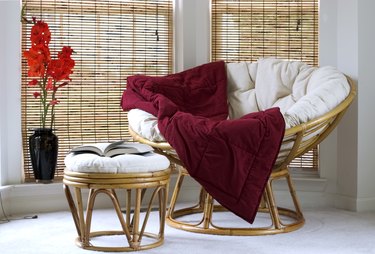 If you are looking for a comfortable, stylish chair for a casual living room, great room, family room or bedroom, consider a papasan chair. A papasan chair is deep, comfortable and snuggly, a good seating option for reading or watching movies. The papasan usually consists of a large, round cushion and a round, double-ended rattan base. It is available in a multitude of fabrics and finishes and is easy to assemble.
Assembling a papasan chair
Your new papasan chair will come in three, or possibly four, pieces: the base, the cushion basket, the large round cushion and possibly a separate cushion cover.
The base will have two round openings on either end, one larger than the other. Place the narrower end on the floor, the wider end facing up. Many catalogs and online retailers show their papasan chairs with improper base placement. Put the basket in the wider end so the chair does not flip over.
Place the basket on the base so the wide end is holding the underside of the basket, which should be positioned like a soup bowl. If you have a cushion cover, wrap your cushion with it. Place the cushion within the bowl of the basket.
Adjust the basket and cushion to a position that makes it easy for you to get in and out of the papasan chair. Accessorize your chair with a throw pillow or lap blanket.