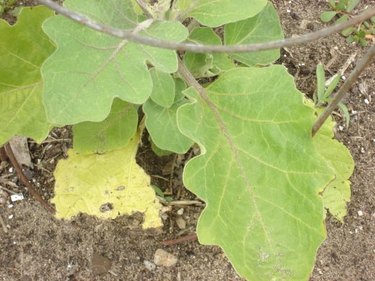 Soil Health
Even though most vegetables are harvested above ground, it's what's below in the soil that produces the sweetest corn and the juiciest tomatoes. Fully 13 separate minerals impact the vitality of a vegetable garden, and yellow plants are a sign that something essential may be missing from the soil.
The first order of business is to get a soil test. The easiest way to do this is to contact your local cooperative extension's Master Gardener hot line. They will either do the soil test for you or tell you where to go in your area for an accurate soil test. If they perform the test, they may charge a small fee.
This could take a few days. While you're waiting for the results, do a little botany detective work of your own. Take a good look at your garden and note which plants are turning yellow and where, and note any other symptoms of slow growth or compromised health.
Plant Symptoms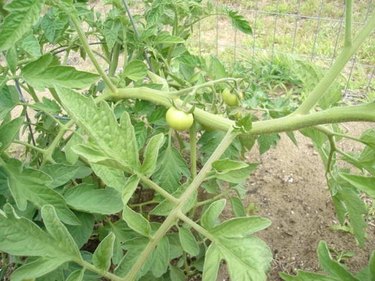 If your plants are growing slowly, look skinny, and have yellowing leaves and stems all over the plant, this might be because of a lack of nitrogen. If the plant's lower leaves are yellow and you observe this symptom moving up to the middle and then the top leaves of the plant, the problem could be a lack of potassium. If, on the other hand, just the top leaves curl up and turn yellow, your soil could be missing essential amounts of calcium. And finally, if there are yellow spots all over the plant, you probably need more zinc. Three other important soil nutrients are boron, manganese and iron, and a lack of any or all three of these will also stunt your vegetable plants' growth and sometimes make the leaves turn various shades of yellow, brown, or light green.
Feed Your Soil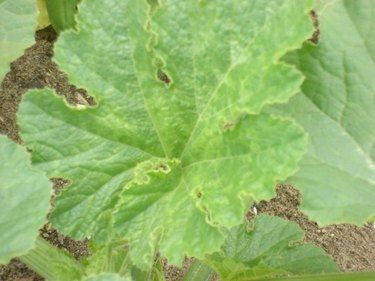 A soil rich in organic matter will nourish your vegetable garden so it can nourish you at harvest time. Commercial fertilizers might supply the necessary nutrients in the short term, but they will do nothing to feed your soil for the long term. Compost kitchen scraps, yard wastes and grass clippings in a pile or composter that you turn often. Add the final product to your garden. Visit a local farm as ask for aged cow, chicken or horse manure and dig this into your garden, too. If necessary, use commercial fertilizers at planting time, but continue to feed your soil with natural ingredients. These will break down slowly over time, building healthy soil, which leads to healthy plants.