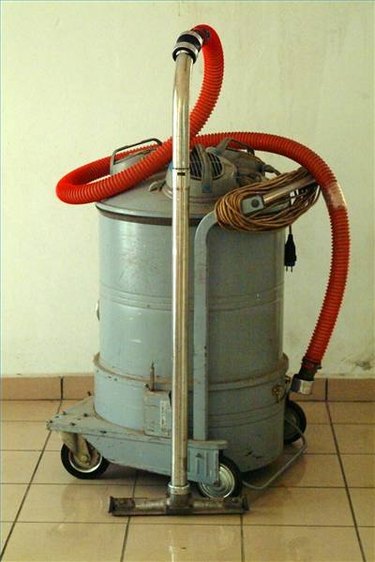 For regular, everyday carpet cleaning, a traditional push vacuum is the best tool for the job. But if you have tough spots and stains, a wet/dry shop vac might be just what to need to get rid of them once and for all. Substituting your shop vac for a professional carpet steaming and cleaning machine can save you money on machine rental fees or if you're thinking of buying your own.
Step 1
Plug in your shop vac somewhere near the stain you want to clean.
Step 2
Dampen the stained area with a little water, then work in a carpet-safe spot cleaning detergent. You should follow the specific instructions on whatever product you choose to use, but in general, the detergent should be scrubbed into the stained area using a soft-bristled scrub brush.
Step 3
Attach a fine slotted attachment to the end of the shop vac hose and vacuum up the water and soap.
Step 4
Dampen the area again and swish the area around with a paper towel if necessary to kick up any suds that remain.
Step 5
Vacuum the area again until most of the moisture has been sucked out.
Step 6
Repeat Steps 2 through 5 as needed to clean the stain completely, then allow the area to air dry.