A wall oven makes a great, space-saving addition to any kitchen. Whether you choose a single or double unit, a microwave/oven combination or a convection unit, your cooking capacity will increase while wasted space will decrease. Before choosing a wall oven, determine which size will accommodate your needs.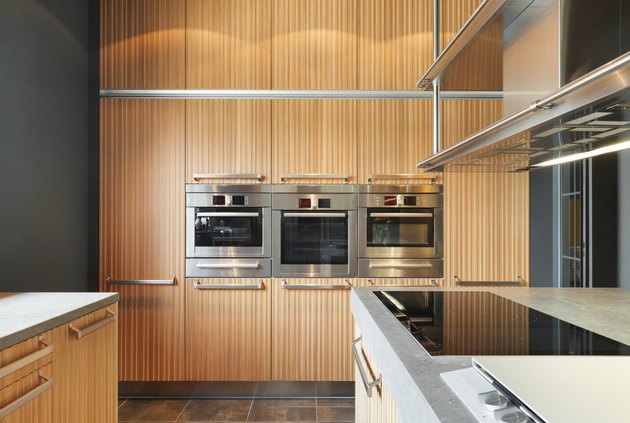 credit:
piovesempre/iStock/Getty Images
Step 1
Measure non-standard entry doors (outside and inside) and hallways before you measure anything else. The new wall oven has to fit through the entryway first. The largest wall oven models average 30 inches wide, so as long as all entries are at least 3 to 4 inches wider than that, you'll be able to get it in the kitchen.
Step 2
Choose a location where you will be able to hard wire the unit. Wall ovens are not approved for plug/receptacle hookup and must be hardwired. You'll also need to make proper adjustments to include bracing that will hold at least 275 lbs. Most wall oven door handles extend 3 inches from the oven door face, so the unit must be situated so that adjacent 45 and 90 degree cabinets and drawers do not interfere with door operation.
Step 3
Measure the existing wall oven to determine whether you will need to expand the cabinet area. Older wall ovens can be smaller, so you might need to make adjustments to accommodate the new wall oven.
Step 4
Measure width, height and depth of cavity where wall oven will be placed. A typical double wall oven measures from 24 to 30 inches in width, and is 53 inches or more in height, when trim is included. A single wall oven averages around 30 inches in height. The depth needed for a wall oven should be at least 24 inches. Allow a minimum 2-inch clearance below the oven if you're also installing a warming drawer.
Step 5
Determine adhesion specifications of adjacent cabinetry. It must have a temperature rating of at least 194 degrees F to safely withstand the heat emitted from the wall oven units.