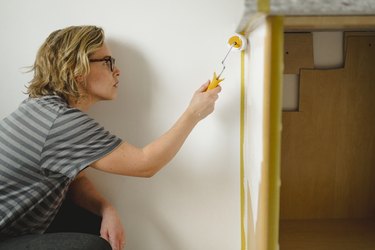 Styles change, and wood cabinetry that once looked fashionable with a stained and varnished mahogany finish may now simply look dark and dated. But updating a kitchen with old cherry wood or knotty pine cabinets doesn't have to be expensive. A fresh coat of paint to redo kitchen cabinets is much less pricey than replacement cabinetry. Painting kitchen cabinets takes a little more care than other household surfaces, but it's a job that falls with the DIY range when you follow the steps to painting cabinets.
Food-Safe Coatings
The paints, primers, cleansers and strippers you apply to your cabinets can let off harmful airborne fumes into your food storage and preparation area. Some fast-acting paint strippers release toxic chemicals into the air. Some people are allergic to the petrochemical solvents emitted by oil-based coatings.
These pollutants disperse quickly when used outdoors. But when trapped in the confined spaces of kitchen pantries and cabinets, they may pose a health threat. For best results, select paints that have been certified as safe by non-profit organizations such as Greenguard or Green Seal.
Prep to Redo Kitchen Cabinets
Every painting job needs to start with a clean, smooth surface. Kitchen cabinets likely have little food particles and grease on them even if you clean them regularly. If you don't clean it off, the paint can't stick well. Cracks, gouges, and other issues on the wood will show through the painted finish if you don't fix them first.
You don't need to strip off the old finish completely with a smelly chemical stripper before painting stained cabinets. Instead, thoroughly clean and degrease all cabinet surfaces by sponging them down with a trisodium phosphate cleanser or a product labeled as a TSP substitute. Wipe off the cleanser residue with a wet cloth, and allow the cabinets to dry for 24 hours.
Fill any small holes or cracks using spackling paste or wood putty. Follow up by sanding all surfaces with 180-grit sandpaper until they are thoroughly deglossed. Use a tack cloth to remove any sanding dust.
Removing the doors can make it easier to paint your cabinets. Laying the doors flat prevents drips, and you can paint the rest of the cabinets more easily without the doors in place. Number the doors and store the hardware in plastic bags to keep everything in order.
Apply Your Primer
Apply an all-purpose water-based primer that's labeled as low-VOC or zero-VOC. Read the label carefully to ensure that the primer can be used over existing oil- and water-based finishes. These primers produce little or no odor while establishing a firm foundation for your finish coat.
If the cabinet is made of a knotty wood, choose a white pigmented shellac primer instead. Shellac is a superior stain-blocking sealant that also prevents tannin bleed-through. While shellac emits a strong odor during application, the smell disperses quickly with no toxic residue.
Apply a Beautiful Finish Coat
Select a low-odor 100 percent acrylic latex interior paint with a glossy or eggshell sheen. These fast-drying paints form a tough protective shell that allows you to wipe off greasy stains with soapy water. Unlike oil paints, they won't yellow over time and resist cracking, blistering and peeling.
Apply two coats using a high-quality synthetic-fiber paintbrush. Unlike bargain brushes, a premium-grade brush won't shed during application and will produce a smooth finish without any evident brush marks. You can also use a paint sprayer for a smoother finish.