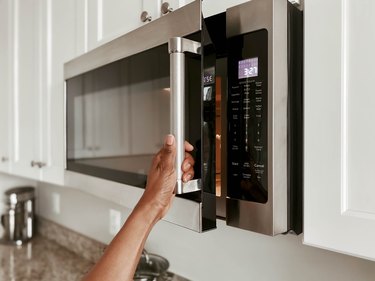 A convection microwave oven works differently than a standard microwave. It distributes heat more evenly by blowing air into the microwave, creating more consistent results. These microwaves are typically more expensive than a standard microwave and many of them feature stainless steel on the inside. As with any microwave, the inside should be cleaned regularly and commercial oven cleaners should never be used. Take extra care when cleaning a stainless steel interior lining as you'll need to pay attention to the grain.
The Best Way to Clean a Microwave
It's always best to unplug the microwave before cleaning as it reduces your risk of electric shock. Cleaning a mess immediately after it occurs is always easier, and it prevents odors from lingering. Remove the tray and gently wipe up the spill with a soft, damp cloth, with or without soap depending on the amount and type of spill. Then, use a clean, soft cloth to dry. Using soap will help to degrease a microwave, but don't use harsh or abrasive soaps or detergents to clean the inside of your microwave.
If food has cooked on to the interior, soften the food before cleaning by following these steps:
Place one cup of water in a bowl inside your microwave.
Cook the water for three minutes.
Let the water and steam stay inside the microwave for an additional five minutes.
Wipe the mess clean with a wet, soapy cloth and then dry.
How to Clean a Stainless Steel Interior
Cleaning a microwave's stainless steel interior lining requires additional care. Before you begin, make sure the oven is completely cool. Then, notice the direction of the grain — it may be horizontal, vertical or diagonal. Using a soft, damp, soapy cloth, wipe the interior in the direction of the grain. Once clean, use a soft, dry cloth to remove the water, again going in the direction of the grain.
After the stainless steel interior is clean and dry, pour a small amount of stainless steel conditioner onto a clean, soft cloth and rub it in, again going in the direction of the grain. Remove any excess conditioner with a clean soft cloth or paper towel. Be careful to avoid logos and don't use chlorine-based cleaners. If your interior is black stainless steel, you don't need to use the conditioner.
How to Clean the Exterior
Follow the same process to clean the exterior of your microwave — wipe it down with a soft, damp, soapy cloth. Take extra care on the control panel and avoid using soap or cleaners on it. Gently wipe it clean with a soft, damp cloth and dry immediately. The rubber seal can trap dirt, so it should also be cleaned regularly using only a damp cloth. If the window becomes foggy, mix a solution of half vinegar and half water to wipe the window, then dry it with a clean, soft cloth.
To remove odors from a microwave, slice a lemon and place it in a bowl of cold water. Don't fill the bowl more than halfway. Cook the lemons and water in the microwave until the water boils and windows steam. Wait 15 minutes before opening the microwave to fully remove the odor. Then, dry the interior with a clean, soft cloth.
---
Gia Miller received her journalism degree from The University of Georgia and began her career as an intern at O, The Oprah Magazine. She then spent several years at Elle DECOR magazine where she immersed herself in the world of interior design. Several apartments and homes later, she's now mastered the art of DIY. Gia enjoys writing stories that both educate and encourage others to take a chance and try something new. To learn more, visit her website - www.giamillerwrites.com.
View Work