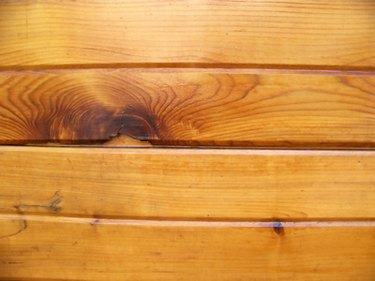 Finding the perfect wood stain for your home project can be tricky. Whether you would like to darken the wooden frames around your living room doors to a rich brown, or brighten your wooden patio furniture with a light, fresh maple, matching colors precisely can take some guesswork at times. However, to get the color you want, you can add tint to a clear or pre-tinted wood stain base, adding to the mix until it is just right.
Choosing Right Wood Stain
Choose a wood stain that suits your project. For outdoor projects, such as refinishing patio furniture or refurbishing a wooden deck, choose a stain that can weather the outdoors. Outdoor wood stains will produce a matte finish, while indoor wood stains will produce a shinier and glossier coat. All wood stains will be clearly marked for indoor or outdoor use on the packaging.
Wood stains come in three varieties: gel, water-based or oil-based. Choose a gel wood stain for wood veneers, as they produce a shine without penetrating the surface too deeply. Choose a water-based wood stain for finished, well-conditioned wood. Water-based stains do not produce fumes and are simpler to maintain, as they can be cleaned up with soap and water. However, they do not achieve the deep conditioning of oil-based stains. Choose an oil-based wood stain for dry or unfinished wood.
Adding Pigment-Based Tint to Wood Stain
Use pigment-based tint with water-based or oil-based wood stains. As a base, use a clear wood stain or a pre-tinted wood stain. Just make sure the pre-tinted stain is also pigment-based. Mix the tint thoroughly to add or deepen the color.
Pigment-based tints are not easy to correct, so be sure to test the stain in an inconspicuous spot before applying to the full surface. Pigment-based tints do not penetrate the wood, but rest on top, so sand the wood surface before applying the pigment-based tint.
Adding Dye-Based Tint to Wood Stain
Purchase dye-based tints for a simple, easy to manage, tinting process. Dye-based tints are most commonly purchased in powder form to be dissolved in water and used with water-based wood stains. However, oil-soluble dye tints are also available for use with oil-based wood stains, so check the packaging carefully to make sure the tint is correct for the stain.
Mix dye-based tints with clear or pre-tinted wood stain as applicable. When using water-soluble dye, simply wipe the surface with water to correct the color if it is too dark, and add more color powder to the dye solution if it is too light. Oil-soluble dye tints are not as easy to correct, as they cannot be washed away with water. However, oil-soluble dyes are long-lasting and will not fade over time.
Dye-based tints penetrate the wood and do not require a sanded surface.
---
Robyn Murray is a journalist based in Omaha, Neb. She has reported for national and international media including National Public Radio, Public Radio International and Business Day in Johannesburg. Murray holds a master's degree from Northwestern University's Medill School of Journalism.