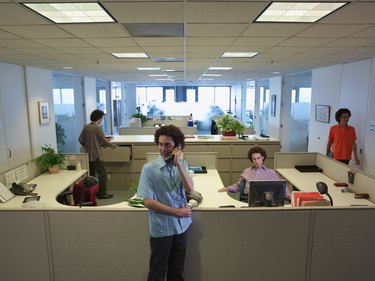 Suspended ceilings are a common fixture in homes and offices. These ceilings are installed easily and are durable, sometimes so durable that decorating trends change and leave older ceilings behind. The metal grid can be repainted, and the tiles can be painted or replaced. Painting a ceiling grid is a bit trickier than painting a wall, but it's an easy afternoon project.
Preparation
Even if you plan to paint the ceiling tiles themselves, it's best to tackle each job separately. The paint required to cover the metal grid would deaden the acoustical sound absorption properties of the tiles. Completely mask the tiles and light fixtures with tape and newspaper, covering up to the edge of the tile hidden by the grid, or simply remove the tiles. While almost all tiles in your ceiling will be interchangeable, mark oddly shaped tiles on the back so they'll be easy to replace. If the ceiling grid has been exposed to smoke, cooking or excessive dust, use a degreaser like trisodium phosphate and hot water to clean the metal. Choose a system to make sure each piece of grid has been cleaned, or the paint will adhere unevenly.
Priming
Remove any rust spots with high-grit sandpaper. Previously painted metal should be scuffed with steel wool so the paint will adhere. Unpainted metal requires a metal primer to keep your final coat from flaking and to prevent oxidation. Don't use textured or rust-prevention primers. Apply the primer with a spray can or a small, high-quality brush. If spraying, mask the walls with newspaper to at least four feet from the ceiling, and put down drop cloths to catch overspray. Let the primer dry according to the manufacturer's instructions, typically at least four hours.
Painting
There are several ways to apply paint, and the best for you will depend on your situation. For small ceilings, a ladder and a small pure China bristle brush are all you need. For larger ceilings, a spray can is faster, though should not be used if excess paint will harm the ceiling the grid is suspended from. In this case, or for especially high ceilings, use a trim roller with a quarter-inch nap and an extension pole. Use a semi-gloss latex or oil paint on most ceilings, though in a home theater use a flat paint to avoid distracting reflections. Paint the outside edge of the grid with a brush and then spray or roll the rest of the ceiling. Let the paint dry and apply a second coat if the coverage seems uneven. Reinstall the ceiling tiles.