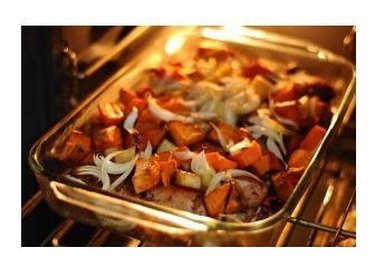 Spectra is a line of GE oven ranges. Most Spectra ranges come with a self-cleaning cycle, which will clean the oven with intense heat without the use of oven cleaners and a lot of scrubbing. Before using the self-clean function, be sure to read the manual for your specific model. There are, however, general instructions for self cleaning a GE Spectra range.
Before Cleaning
Before you self clean your GE Spectra kitchen range, remove the shelves, broiler pan and any cookware or aluminum foil you may have in your oven. You Spectra model may also have a roasting rack or probe; remove those also. According the GE Spectra manual, on some models the convection roasting rack and shelves can remain; however it also states that they will darken and become hard to slide. For these reasons, removing them is recommended.
Setting the Oven
Close the oven door and latch it (if it has a latch). The "Lock Door" light will flash if you don't do this. All controls should be set to off. Set your oven to self clean by touching "Self Clean" on the touch pad. Then choose your desired clean time, between three and five hours. On all Spectra models it is automatically set for four hours. On most models, you choose either -- or + to adjust the time. On other models, the "Self Clean" button on the touch pad actually says "Self Clean STD/LOW." On those models you can only select a three- or four-hour cleaning. Four is automatic and to select three hours, you have to touch the button twice. You will see the corresponding number of hours on the display screen of all models.
After Cleaning
When the clean cycle is finished, allow your oven to cool. If it is not clean, repeat the process. However, if you only notice white ash (usually salt deposits), use a damp rag to wipe it up. If this does not work, the GE Spectra manual states to use a soap-filled steel wool pad. To rinse, the manual says to use a vinegar and water mixture to remove all the salt and soapy residue.