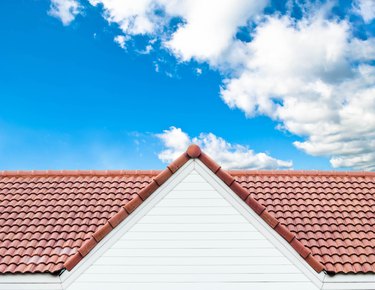 Mediterranean or Southwestern adobe tiled roofs are probably the first things that come to mind when you think of a tiled roof, but roof tiles come in many colors and materials--from blue-gray slate tiles to synthetic tiles in modern colors such as blue and green. Consider the color of fixed features like roofs when picking a paint color for your house.
Roof Tile Colors
Most tile roofs are adobe or brick red-clay tile, and this will limit your color selection. On the other hand, synthetic or concrete tiles come in a wide range of colors. More neutral brown or gray roof tiles are easy to work with, since virtually any color will go with them.
Always consider your roof tile color when picking exterior house paint: The house color should complement the roof and pull the look of the whole house together.
Choosing Paint Color
It's best to stay on the same side of the color palette as your roof color. Traditional adobe tiled roofs have strong orange and red warm undertones, and painting the house cool colors like gray, blue or green can have a jarring effect. These homes look best painted in rich tan, gold or light brown.
If your roof is a cool gray or blue, avoid using warm paint colors. A blue-tiled roof with pink or apricot colored stucco may seem whimsical, but your neighbors probably won't like it. Use cool taupes, gray-blues or subtle seafoam green.
Gray or brown tiled roofs are neutral enough to paint almost any house color and still look good. Before deciding on a color and ordering all the paint, buy a quart of the color you're considering and paint a large sample swatch on the house. If possible, paint the sample near the roof line so you can see how the colors work together. Colors can look very different from the paint chip when applied directly to the surface.
Trim and Details
While the roof and house paint color should blend and complement each other, the trim color you choose defines and accentuates the architectural elements. You can be a little more creative with the details. Imagine a red tiled roof, warm gold for the main color and ultra-deep plum for the front door or shutters instead of a more traditional dark brown. For a gray tiled house with cool taupe siding and off-white trim, a vibrant red or celery green front door adds a splash of fun color without being overwhelming.
When choosing color accents take into account other elements like awnings and even landscaping flowers and echo those colors in the details.