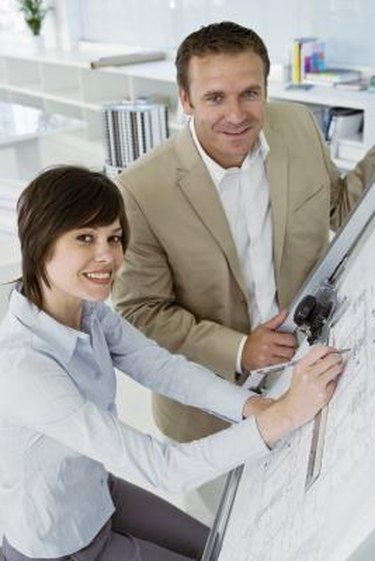 House elevations are architectural drawings that show how a home will look from specific angles. Elevations are a key part of the way architects communicate their designs with clients and the contractors who will build the home. Like all architectural drawings, house elevations are drawn to scale, meaning that the length and thickness of each line directly corresponds with measurements of the finished home. 1/2 inch to 1 foot scale is common.
Front Elevation
The front elevation is a straight-on view of the house as if you were looking at it from a spot on the front yard. Also called an "entry elevation," the front elevation shows home features such as entry doors, windows, the front porch and any items that protrude from the home, such as side porches or chimneys. However, side walls are not visible at all unless they will be built at an angle that is visible from the front view.
Side Elevations
Architects distinguish side elevations by right and left side, determined as if you were facing the front of the house. Directional notations, such as "Right side elevation (north)" help minimize confusion when interpreting the drawings. Side elevations are useful for showing windows and other home features, and they also show the home's depth. The side view of the front and back porches helps homeowners and contractors visualize porch size in relation to the home. Roof pitch is also indicated in side elevations.
Rear Elevations and Notes
Rear elevations present the back side of the house, with yet another straight-on view. As with the other drawings, notes regarding features that can't be seen from straight-on views may be included on this drawing. Other notes included on elevations may indicate the materials contractors should use for certain areas, such as window or door type, siding materials and exterior insulation.
Split Elevations
Another type of side elevation is the split elevation. This is a view of the home's interior, drawn as if the house had been split in half down the middle or other indicated line. A layman might think of it as a "cutaway" view. Split elevations show details for interior height, floor thickness, wall thickness and stair rise. This is also where you'll find interior door openings, fireplaces, kitchen cabinet placement, and the like.