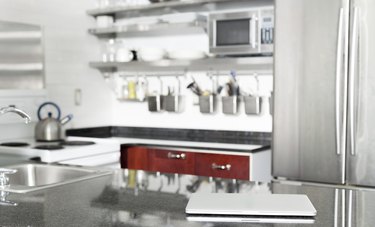 General Electric's appliances division produces different lines for different kitchen styles. The Profile series and the Café series differ primarily in styling, rather than in function. Café series appliances, though, tend to be more expensive.
Profile Series
Appliances in GE's Profile series show a little more flair than basic appliances. They're designed to be sleek-looking, with gently curved profiles and streamlined door handles, rather than boxy like strictly utilitarian appliances. They're for homeowners looking for appliances that are contemporary but not ultra-modern.
Café Series
Café series appliances are styled after appliances in restaurant kitchens -- solid-looking frames, big control dials, hefty door handles. They're aimed at people who want an industrial look in their kitchen but don't need true professional-grade appliances, such as those in GE's top-of-the-line, commercial-quality Monogram series.