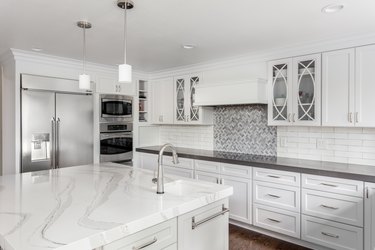 Is your kitchen ready for an upgrade? Before you get too excited about mapping out your dream kitchen, it's important to measure the space and allocate enough room for the standard kitchen appliance sizes to make sure everything will fit. That will give you plenty of opportunities to rearrange the layout if you discover a refrigerator really won't fit next to the oven, for example, without wasting precious time and resources.
Standard Refrigerator Dimensions
There's quite a bit of variation when it comes to refrigerator dimensions, and the measurements typically depend on the style of refrigerator. According to Whirlpool's size guidelines, you'll want to choose a top-freezer refrigerator if you have a small space since these can range from 28 3/4 to 32 3/4 inches wide, 28 3/4 to 34 1/2 inches deep and 61 3/4 to 66 1/4 inches tall. Side-by-side fridges have the largest width and height dimensions but aren't quite as deep, ranging from 32 3/4 to 39 3/4 inches wide, 29 3/4 to 31 1/8 inches deep and 65 7/8 to 71 1/4 inches high. This makes a side-by-side fridge a good choice if you want a model that doesn't stick out as far from the counters.
Fridges with bottom-drawer freezers can have French doors or single doors. French door refrigerator models range from 29 1/2 to 36 inches wide, 29 3/8 to 34 5/8 inches deep and 68 1/2 to 70 1/8 inches tall. Single door bottom-freezer fridges typically measure 29 1/2 to 32 3/4 inches wide, 33 3/8 inches deep and 67 to 70 inches high.
Whirlpool also recommends that you add 1/2 inch to all measurements when measuring a space for a new refrigerator to ensure proper ventilation around the appliance.
Ovens and Stoves Standard Sizes
Because most free-standing ranges slide in between existing cabinets and countertops, there is not much variation in their width, which typically measures 30 inches. Range height is also relatively standard at 36 inches since it's convenient to have a stove top that's the same height as your counter. Don't avoid ranges that say they're around 47 inches tall, however, as this typically means the oven has a back control panel that sits about 10 inches higher than the stove top, not that the stove top itself is 47 inches high. Depth is the only dimension that might have much variation, but even then, it's typically within a narrow range of 26 to 28 inches.
Wall ovens tend to be smaller than their free-standing cousins, measuring about 24, 27, 30 or even 36 inches wide according to AJ Madison. Wall oven depth is typically just under 27 inches to mount flush with the standard cabinet size. Wall oven height can vary tremendously based on whether you choose a single, double or triple oven unit.
Built-in stove tops have very little height since they typically mount flush with the counter, but, according to Warners' Stellian, they may be 2 1/2 to 4 inches high depending on the style. They also have a standard depth of 19 to 22 inches to fit a standard 24-inch counter. As far as width, built-in stove tops can be purchased in a wide variety (12 to 48 inches) depending on how many burners you prefer. However, 30- and 36-inch stove dimensions are the most common.
Standard Dishwasher Measurements
Like free-standing ranges, dishwashers are often designed to fit in a prebuilt area under the counter. This limits their dimensions to standard sizes, which are usually 24 inches wide by 23 to 25 inches deep by 33 to 35 inches high. However, you can also find ultra-compact 18-inch wide dishwashers for smaller spaces.