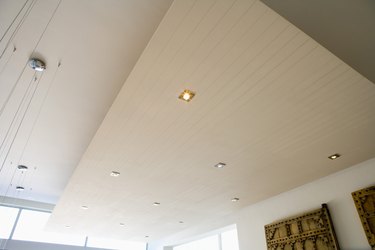 Dropped or suspended ceilings can be helpful when you are trying to cut down on energy costs or convert your basement into a finished space. In some older homes, especially those of the Victorian era, the ceilings can be 10 feet or more, which can be very expensive to heat. By installing a dropped or suspended ceiling, you are able to make the ceiling lower and more cost effective to heat. When you are converting a basement, rather than install new drywall ceilings, you can install suspended ceilings, which go up quickly. When you install suspended ceilings, you should consider the type of lighting to install. Knowing the best type of lighting to put in a suspended ceiling will make the installation go smoothly as well as help provide light to the room.
Flourescent Light Fixture
Full-panel, fluorescent light fixtures work well with suspended ceilings, especially those that are designed to drop in. However, you need to take into account some building codes regarding these fixtures. For example, make sure that the wires of the light fixture are encased in a flexible conduit made of metal. The fixture itself needs to have a box connector/conduit that is installed at a 90-degree angle to a knock-out connector. The black, green and white wires from the fixture need to be inserted inside the metal conduit, then connected to the channel box. Secure the conduit with a set screw, then connect the light's wires to the lead wires.
Recessed Lighting
Recessed lighting is a good choice for suspended ceilings in that it can be low profile yet provide the light that you need. However, care must be taken when choosing the bulbs you install in the recessed lighting. Incandescent bulbs are not a good choice because of the heat that they produce. There are alternatives such as LED or halogen, which provide the same amount of light as incandescent bulbs but at the fraction of the wattage. When you install recessed lighting, install it with support bars that can help bear the weight of the fixture.
Mounted Light
Mounted lights are good with suspended ceilings. However, you need to make sure that you install them correctly. Mounted lights are not supported by the suspended ceiling but by the existing ceiling beneath. Once you hang the mounted light correctly, you can either have the light hang below the ceiling or flush with the surface.