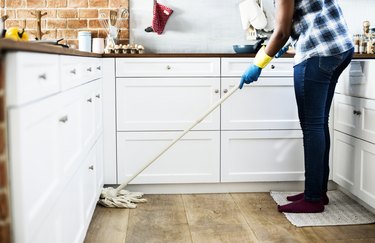 Keeping a house clean is no easy task, especially if your house has pets and children. It seems like every week there's another cleanser on the market that promises to fulfill a particular need or clean a particular room. It's great to have specialized cleansers when they are needed, but one of the best things a household can have on hand is Murphy's Oil Soap, which has a multitude of uses in one product.
Murphy's Oil Soap For Floors
Murphy's Oil Soap has been around for decades, and has been polishing floors with expert precision since the beginning. However, the uses for Murphy's Oil Soap go far beyond the maintenance, cleanliness and shining of different floors. They even go beyond simply cleaning! A bottle of Murphy's Oil Soap is something that you will use again — and again and again — in multiple ways.
Typically, people buy Murphy's Oil Soap to clean and polish their floors. Murphy's Oil Soap, like all other types of oil soap for wood floors, is all-natural and leaves floors of all materials, from tile and hardwoodnto laminate and linoleum, looking clean, bright, and shiny.
However, beyond the basic soap oil uses are applications for Murphy's Oil Soap that you may not have realized, and that you may find extremely useful. Exploring the additional uses for Murphy's Oil Soap will let you get the most bang for your buck out of one single product, and may also help you with cleaning projects and other issues you hadn't considered before.
Soap Oil Uses
The obvious application for all-natural oil soap for wood floors is cleaning. Beyond floors, Murphy's Oil Soap is an excellent bathroom cleaner and can shine up stainless steel fixtures, and prevent water spots and film from collecting on them. Murphy's Oil Soap is also a natural cleansing leather conditioner. Use it on your car dashboard, a leather sofa or even handbags and shoes to keep a healthy, moisturized sheen.
Stubborn stains that have resisted other kinds of washing and stain-treatment may just need a full-strength dose of Murphy's Oil Soap. Apply some of the Murphy's Oil Soap to the affected area and allow it to sit for 15 minutes before tossing it into the washing machine. Dry as usual.
Oil soap can also be used to clean jewelry. Mix oil soap with water to create a loose, liquid solution, and apply it to your jewelry to remove tarnish and restore shine. Murphy's Oil Soap also removes paint from stencils and paintbrushes, and can be used to clean stubborn marker marks off of dry-erase whiteboards and other surfaces.
Beyond Floor Cleaning with Murphy's Oil Soap
Beyond simply cleaning, Murphy's Oil Soap freshens leather, shines up stainless steel, and pulls years of dirt and grime off of wooden fixtures and banisters with little effort. It can also function as an insect repeller when mixed with rubbing alcohol, lemon juice, vegetable oil and water. Spraying the solution on plants and around your backyard is an excellent way to keep pests from gathering where you sit, as well asfrom damaging your plants.
Murphy's Oil Soap is also a fantastic carpet stain remover. Apply Murphy's Oil Soap to the stained area and allow it to penetrate the fibers for a while. Scrub in a circular motion to disperse the soap and pull up the stain. Rinse the area with water and allow the stain to dry.
Oil soap also mixes well with other household cleaners. When mixed with water and baking soda,mMurphy's Oil Soap can create a soft scrub cleanser that works well on tile, bathtubs and other areas that typically rely on toxic abrasive cleansers.