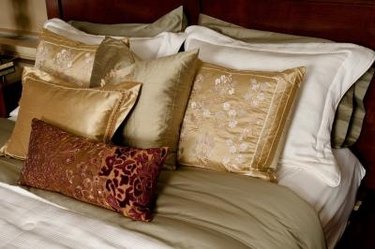 If you want dress up your pillows with a removable cover that looks permanent, pillow shams are the way to go. Although pillow shams are similar to pillow cases, they differ in that they have a hidden opening in the back as opposed to a more visible one on the side. Pillow shams come in a variety of standardized sizes to fit common pillow sizes.
Standard
Standard-size pillow shams are approximately 20-by-26 inches, as are standard-size pillows. Keep in mind, however, that pillow shams often have some sort of border around the edges, whether it is a flat, tailored flange or several rows of ruffles. The overall measurements of shams will vary depending on whether or not they have borders and the width of those borders. One standard pillow is the norm for a twin bed; place it centered at the head of the bed. Two standard pillows, side by side, fit across the width of a full or double bed.
Queen
Queen-size pillow shams have an interior size of 20-by-30 inches; they are sized to fit a 20-by-30-inch queen-size pillow. Like standard shams, the overall dimensions of queen shams depends upon the width of any ruffle or flange added to the sham. Two queen-size pillows fill the width of a queen-size bed.
King
King-size shams measure 20-by-36 inches, not including any additional border. As you can probably guess, they are sized to fit king-size pillows. The widest bed pillows available, two of them fit nicely across the width of a king-size bed.
European or Continental
European shams, sometimes called continental shams, are 26-by-26 inches and sized to fit pillows of the same name and dimensions. They are traditionally placed on a made bed behind the bed pillows to give the bed an ultra-full, luxurious look. Like other pillow shams, they often have a ruffled or flanged border, which is not included in the above dimensions.
Specialty Sizes and Custom Made
While ready-made pillow shams are most commonly found in sizes that correlate with bed pillows, you may sometimes find them sized to fit travel pillows, also called boudoir pillows, which are 12-by-16 inches in size. Additionally, you may be able to find them for throw pillows of various sizes. If you're looking for a sham of a particular size and can't find it, a decorator or seamstress can make shams in just about any size to fit just about any pillow, or if you have basic sewing skills, you can make them yourself.