Marigolds line sidewalks and flower beds across North America. They are popular among gardeners because of the ease with which they grow and their cheery yellow-orange hue. However common these annuals may be, many gardeners fail to realize that marigolds are actually poisonous. Be sure to investigate this before planting marigolds in your home's garden.
Description
Marigolds are yellow-orange annuals that originated in South America but are easily grown in just about every climate across the Americas because of their resilient, adaptable nature. They grow best in clay or sandy soil, and although they are typically grown outdoors in flower beds and gardens, they can also be potted and kept indoors. Marigolds have carnationlike flowering heads and grow very rapidly during the spring, summer and fall seasons.
Poison
A little-known fact about marigolds is that they are poisonous. Their flowering head, stem, leaves and roots contain phototoxic thiophene derivatives. However, this poison actually has very little effect on humans. When exposed to a combination of marigold cell sap and sun exposure, skin redness and irritation may occur. Nose and eye irritation can also be a symptom of a marigold's phototoxic thiophene derivatives. But don't worry, these symptoms are not severe and should only last a few minutes.
Animal exposure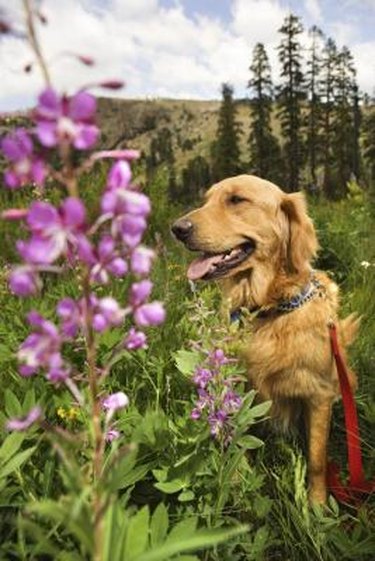 Although humans do not react severely to marigolds, the flower's poison can have a much more detrimental effect on dogs and cats. It is a common occurrence for dogs to ingest marigolds while exploring a backyard or on a walk. If your pup ingests marigolds, vomiting is likely to occur. This is because the cell sap found in marigolds can irritate your pet's mouth, pharynx or esophagus. This is will then likely cause excessive salivation, swelling, vomiting, or skin rashes. If your dog or cat displays any of these symptoms after ingesting marigolds, contact your local emergency vet immediately.
Other poisonous flowers
Many flowers, like the marigold, are poisonous without public knowledge. Because of this, you should never touch or eat a flower, or berry you do not have adequate knowledge of. Do not allow your pet to touch such plants either. Some poisonous flowers common to gardens across the country are azaleas, holly, ivy, hydrangeas, oleander and morning glories. If you want to learn more about the poisonous flowers or plants in your region, plant guidebooks offering descriptions, pictures and symptoms are available at your local bookstore.