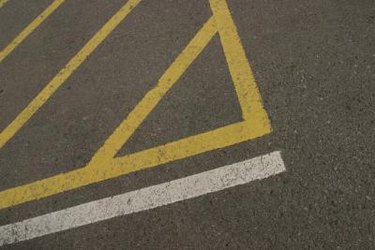 Whether you're painting lines in a parking lot or you want to add an area for basketball to your asphalt driveway, you must carefully choose the paint you'll use. Asphalt is a semi-flexible paving surface that will not allow many types of paint to stick. If you choose the wrong paint for your asphalt, all of that painting work will soon peel off when exposed to the elements.
100 Percent Acrylic Paint
This type of polymer-based, water-soluble paint will prevent your lines from lifting off the asphalt once you've painted them down. You can apply this paint with a brush, roller or sprayer. Since this paint is water-based, it will cause no damage to the asphalt surface underneath. Many colors are available, and this is the type of paint that many professionals use for parking lot stripes.
Coal Tar Paint
Coal tar paint is not as costly as acrylic paint, but it's much more caustic to work with. Make sure that you're wearing the proper protective equipment when applying this paint. Coal tar paint is mixed with other polymers and can handle the beatings from a driveway that's located in the sun and used frequently. This is a black sealant intended for use as paint coverage for large areas of asphalt.
Oil-based Paint
This type of paint is slow drying. It's available in multiple colors and is very resistant to heavy traffic. Because oil paint is not flexible, it will eventually crack.
Water-based Latex Paint
Water-based latex paint can be specially formulated for asphalt areas and is available in many colors. This type of paint must be used if the asphalt has already been sealed with another type of paint, such as coal tar. This is the fastest drying asphalt-appropriate paint and will be dry to the touch in approximately three hours.