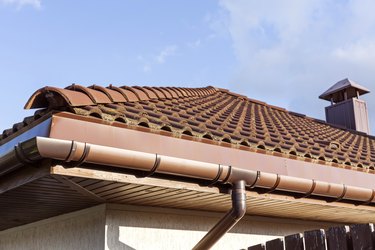 The terra-cotta roof tiles already cap your home with curb appeal and character. Your choice of house paint further defines the spirit of the people who live there. Look around the neighborhood, and check your local homeowners' regulations, so you won't create an eyesore that will have to be repainted. Then find one of the many colors that work brilliantly with terra-cotta tile to showcase the high-interest textured roof.
Not Quite White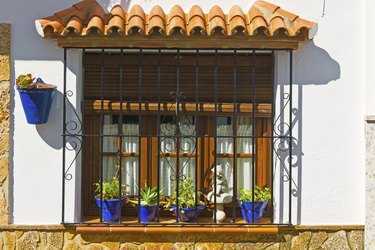 A classic Spanish Colonial home with a terra-cotta roof always looks well-dressed in a coat of ivory, ecru or oyster-white paint. Stark white can be too harsh next to the mellow clay tile, but the slightly creamier off-white paint shades highlight the diva-colored roof and cast your home as Tuscan, Spanish-style or earthy Mediterranean. Don't stop at wall and tile color when planning your irresistible curb appeal. Spice things up with a surprise trim color -- cornflower blue, dark jade or candy pink -- and consider a bolder door in raspberry, emerald or teal.
Modern Color Schemes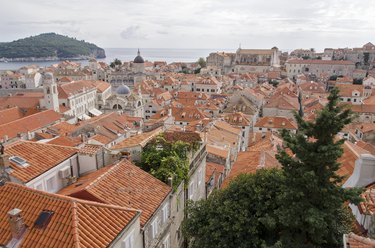 Contemporary stucco-finished homes are trending toward darker, duskier finishes. Paint colors such as dune, mushroom, sand and tan reflect the warm tones in terra-cotta. Gray is another option; light grays intensify the roof color but merge easily with a block of white and terra-cotta homes. Deeper grays, such as gunmetal and thundercloud, provide a dramatic contrast with the roof but are moderate enough not to clash with it or overwhelm it. A house with several levels, and architectural details like raised frames around arches, might be painted in several related shades with an accent. A two-story vertical facade that towers over a gabled entry level and garage could be rich cocoa with surrounding walls in khaki or tan. Emphasize the detail around arches, roof edges and window ledges by using orange terra-cotta paint.
Cool Colors Under Clay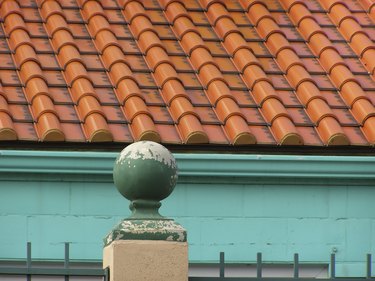 The soft shimmer of pale green, mint, washed-out olive or pastel turquoise balances the warm roof with a hint of cool color on the walls. The green and blue tones pick up some of the subtle variegated colors in the clay roof tile, overall contrasting dynamically with the warm color overhead. Choosing a low-key color is one way to distinguish your home in a community of similar houses that don't allow, and wouldn't appreciate, a more colorful departure from the predictable white and off-white walls standard in so many Spanish and Mediterranean-style neighborhoods.
The Hot House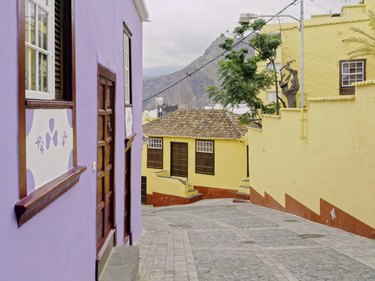 When your house has a vivid personality to match your own exuberance, paint the walls fiesta bright. Tropical hot pink, deep apricot, sunny ocher, aquamarine or medium-violet walls transform your property into a rain-forest fantasy. If you live in a vibrant community or on a large lot with dense landscaping, a blindingly bright exterior sends a cheerful bienvenidos to visitors, with all the charm of a Mexican hacienda. Greenery and tropical blooms blend the exuberant colors with their surroundings; this isn't a look for northern climates, so you should be able to plant for year-round flowering. Choose a contrasting trim color between the tile roof and the walls -- terra cotta paint for cool colors, trim a few shades darker or lighter than a warm wall color.