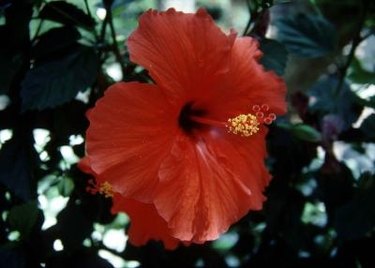 The hibiscus is a popular flower for home gardens. There are many different varieties of hibiscus, and they all fall into two basic categories: tropical and hardy. Distinguishing between tropical and hardy hibiscus is essential to growing them successfully.Tropical hibiscus grow in the warmest zones, as identified by the USDA in its hardiness zone map. Hardy hibiscus grow in cold zones and are tolerant of harsh winter temperatures.
Basic Differences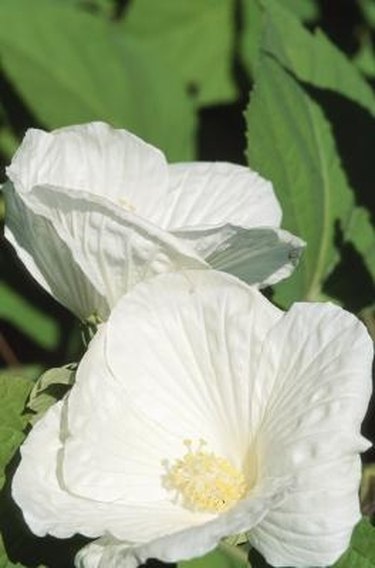 The biggest difference between tropical and hardy hibiscus is that tropical hibiscus is not hardy in zones lower than zone 9. Tropical hibiscus does not tolerate freezing temperatures and cannot survive more than brief periods of cold. Hardy hibiscus tolerate freezing temperatures and can survive winters in cold northern climates. Although they die back for winter, they do return in spring, often developing new growth from the roots.
Tropical Hibiscus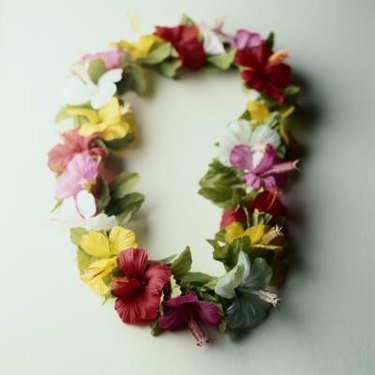 Tropical hibiscus is native to tropical climates. Although tropical hibiscus shrubs do lose leaves, they remain green all year and produce new growth as old leaves fall off and die.They only grow outside in warm climates where winters are mild and cold spells are brief and the temperature never gets below freezing. Tropical hibiscus has a long blooming season, beginning in spring and continuing through late fall. Zone 9 is the coldest suitable zone for tropical hibiscus.
Hardy Hibiscus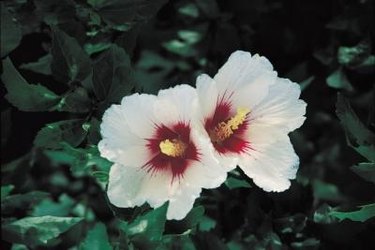 Hardy, perennial or winter hardy hibiscus are descendants of Rose Mallow or Hibiscus moscheutos, Hibiscus mutabilis or Hibiscus coccineus. All varieties of hardy hibiscus are native to areas with cold, harsh winters. Most varieties of hardy hibiscus die back to the ground in winter. New growth emerges in spring from the root tops. Hardy hibiscus has a shorter blooming season. It is best suited to growing in zone 4, where temperatures can drop to -30 degrees F, and zone 8, where temperatures can drop to 10 degrees F.
Typical Varieties
The American Hibiscus Society calls Chinese hibiscus, or Hibiscus rosa-sinensis, "Queen of the Tropics." Regular and variegated varieties are sold at most garden centers. This is a tropical variety that is not winter hardy. Confederate Rose grows into a shrub that can reach 6 to 8 feet high and wide. If carefully pruned, it can grow into a 12- to 15-foot multiple-trunk tree. Single or double flowers are 4 to 6 inches in diameter. Rose of Sharon is a lovely variety that is native to Asia. Characterized by dark-green leaves, vigorous growth and a long blooming season, its white, blue, purple or pink flowers have single or double blooms.
Unusual Varieties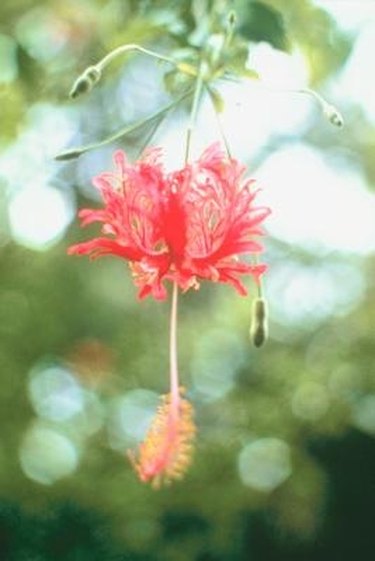 Texas Star hibiscus is characterized by bright-red or white star-shaped blooms. This hardy hibiscus is adaptable to most conditions and can tolerate drought. Turk's cap is native to Texas and Mexico. This drought-tolerant, maintenance-free plant is known for luring hummingbirds. It is an evergreen perennial shrub that grows 5 feet tall. Red blooms are most common, but white and pink exist. Blooming flowers look like upright buds that don't open.