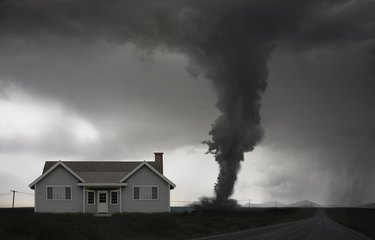 Tornadoes can be terrifying to deal with, whether you've been around them all of your life or you're experiencing your first one ever. It's a good idea to develop a long-term plan for staying safe to help you weather the storms ahead if you live in high-risk areas. Even if you're dealing with a one-off storm, though, knowing the safest places in your house during a tornado is important.
The best way to prepare for a tornado is familiarizing yourself with what to look for when a tornado is approaching, signing up for your community's warning system, and figuring out the safest places in your house for you and your family to take shelter.
You'll know a tornado is approaching because the sky will turn dark or green. Then there may be dark, low-lying clouds and large hail, followed by a loud roar that sounds similar to a train. Tornadoes can be unpredictable, but there have been many advancements in tornado detection. So if your town doesn't have a community warning system or tornado sirens, sign up for notifications from the Emergency Alert System (EAS) or NOAA Weather Radio (NWR) and pay close attention to televised weather reports.
If you don't have a tornado-safe room built using Federal Emergency Management Agency (FEMA) criteria or a storm shelter, take shelter in a small interior room that doesn't have windows. Try to maneuver yourself under a heavy table and cover yourself with a blanket to help prevent injuries from flying debris. Most important, keep your head protected.
Other places that can be safe zones are bathrooms, closets, and underneath stairs. If you're sheltering in a bathroom, choose one that doesn't have windows or an outside wall. If you're taking cover in a closet, get as far inside it as you can and close the door. Don't leave your home until the storm is over and you can safely evacuate the area.
Apartments and Mobile Homes
Although your options are limited if you live in an apartment or mobile home, you can still take steps to protect yourself. If you live in an apartment, especially on the higher floors, try to get to the lowest floor possible. Laundry rooms located on the lowest level are often the best choice because most don't have windows.
If you live in a mobile home, under no circumstances should you stay inside. You won't be safe inside your mobile home because high winds easily damage them.
If you're outside when a tornado strikes and and can't get to an indoor location, never seek refuge under an overpass or bridge. Instead, shelter in a low, flat area and protect your head and neck with your arms.
Staying Safe After a Tornado
After a tornado, continue to pay attention to the EAS, NWR, and your local authorities to stay informed on what's happening in your area in case there's more inclement weather. If you're cleared to leave your home or need to evacuate the area, avoid power lines that fell or broke during the tornado. Although you may be tempted to immediately get on your phone and check social media for updates, try to preserve your battery so you can keep in contact with your family and friends.