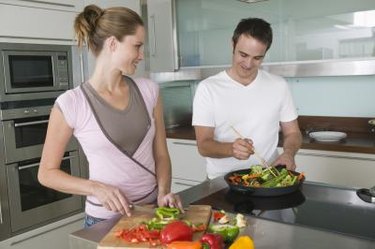 Just as a painter takes care to select just the right brushes, a wise cook takes care in selecting cookware. Two of the top names that cooks explore are Calphalon and Circulon. Each company manufactures high-quality cookware for use in homes as well as in commercial establishments. The major difference between the two brands centers on the materials used to manufacture the cookware. Each company manufactures complete cookware sets to cover everyday needs and add-ons to round-out their cookware arsenals.
Calphalon
Calphalon provides a wide range of cookware for home and professional chefs. Cookware collections include nonstick, infused anodized aluminum, stainless steel, copper and enamel cast iron. Selections range from everyday pots, pans and skillets to roasters, woks, griddles and sauté pans. Calphalon's anodized aluminum pans are known for heating and cooling quickly. As a result, cooks must learn how to cook with their Calphalon pots and pans. Temperatures may need to be a bit lower than with other types of cookware and can vary based on whether you cook on a gas, electric or smooth-top stove. Calphalon offers "shiny" stainless steel and brushed-finish, stainless steel cookware, both manufactured with a three-ply construction. Calphalon cookware has ergonomically designed, stainless steel handles that stay cool.
Circulon
Circulon is a well-known brand in the United States and has been around for more than 25 years. The company introduced its patented, hard-anodized aluminum nonstick cookware in 1985. Circulon was the first company to provide cookware that combined nonstick properties with aluminum. The aluminum core allows heat to distribute evenly so pots and pans don't have hot spots. The cookware has grooved rings, which the company calls a "food release system," on the surface of the pots and pans, and a highly durable, three-layer, nonstick coating. Circulon cookware is identifiable by its dark grey color. Circulon lids have a dome shape to retain more moisture inside the cookware when you are steaming or braising. Circulon was one of the first manufacturers to make its cookware dishwasher safe. Handles on Circulon cookware can stand heat and oven temperatures up to 350 degrees Fahrenheit.
Similarities
Both Circulon and Calphalon can be used on any type of stovetop surface. Both are also dishwasher safe. Each company provides consumers with a wide range of cookware choices that range from 10- to 14-piece sets to open stock and specialty items, such as roasters, stockpots and griddles. Both companies provide see-through glass lids for skillets, pots and sauté pans.
Differences
Both brands are oven safe, however, Circulon is only safe to 350 degrees Fahrenheit and Calphalon is oven safe to 500 degrees. This could be a factor for cooks who like to finish foods in the oven. The entire Circulon line is made of nonstick anodized aluminum with a dark grey brushed finish. Only the Circulon line has the patented food-release system and trademark ridged coils. Consumers can choose from nonstick to stainless steel and copper to cast iron in the Calphalon line.
Price
In March 2011, 10-piece Circulon cookware sets range from $200 to $550 dollars on the company's website. Ten-piece Calphalon sets range from $180 to $600 on the Calphalon website. Individual prices vary for open-stock items, such as griddles, fry pans and roasters, from both manufacturers.