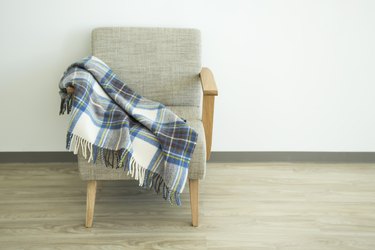 Blankets, throws and afghans are all fabric coverings that provide warmth. The terms overlap, so hard-and-fast definitions don't always apply. In general, a blanket is a large piece of fabric used for keeping warm typically as bedding; a throw is a small blanket often used as a decor element over a couch, and an afghan is a crocheted or knitted blanket. Additional distinctions can be made by considering the size, materials, use and word origin.
Size Distinctions
Blanket sizes refer to the size of bed the blanket is intended to cover. The blanket dimensions are larger than the corresponding mattress, allowing the blanket to drape over the sides and tuck under the foot of the mattress.
Throws typically have a standard size of 50 inches wide by 60 inches long. This may vary by a couple of inches in either dimension.
Afghans may be any size. The finished size for most afghan patterns is similar to a throw. Lap-sized afghans, usually about 36 inches wide by 48 inches long, are sometimes called lapghans. Afghans made in bed sizes usually cover only the top of the mattress and don't hang over the sides. Interestingly, baby-sized afghans, about 30 to 36 inches square, are more often called baby blankets rather than baby afghans.
Materials and Construction
Blankets are typically made from one large piece of a fabric that retains warmth, such as woolens and wool blends, flannels, thermal weaves, or fleece. The blanket edges may be bound with a narrow strip of tightly-woven fabric to prevent fraying.
Throws can be constructed like a blanket, or hand-woven. Blanket throws often have fringed instead of bound ends. Throws that are hand knit or crocheted are called afghans. In keeping with their decorative nature, throws may be made from luxury fabrics such as chenille, crushed velvet, faux fur or suede. These luxury throws are usually backed with another fabric such as satin or brocade to create a two-sided throw.
Afghans, which are largely defined by their construction, are crocheted or knit by hand from yarn. Afghans originally were made from squares of many brightly colored yarns joined together, but they can also be made in one piece or with one color. The distinctive feature of handmade afghans is the texture resulting from the knit or crochet stitches.
Decorative Use
Since the primary purpose of bed blankets is to provide warmth, they are usually kept beneath the bed coverings and are not displayed. But afghans and throws are decor elements, as well as sources of warmth. Throws and afghans are often chosen for colors and patterns that accent the decor of a room, and are displayed by draping them on sofas, chairs, ottomans or across the foot of a bed.
Word Origin
While the word blanket dates back to Middle English of the early 1400s, the use of afghan to describe knitted or crocheted blankets is more recent. Beginning in the late 1700s, Afghan became an English word referring to the tribal peoples of Afghanistan. By the mid-1800s, the colorfully-patterned textiles of the region became well-favored, producing the term Afghan shawl. This was soon shortened to afghan and was applied to handmade, crocheted or knitted blankets with colorful designs.