A bathtub with jets is a fun luxury and a great way to unwind in your home after a long day. Before you decide on the perfect bathtub, though, it's important to understand the differences between air jet and water jet bathtubs. Armed with the right information, you can install a tub perfectly suited to your own personal relaxation needs.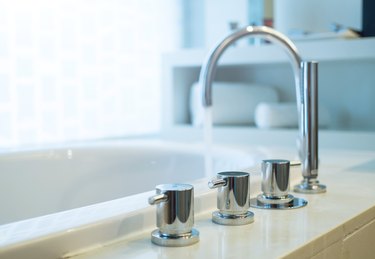 Air Jet vs. Water Jet
As the names imply, the main difference in mechanics between these two types of jets is a matter of air and water. Air jets gather surrounding air, heat it up and then blow it out into the bath water. The result is a constant stream of gently rolling water. Water jets, on the other hand, gather the bath water and then shoot it out from a few jets at high pressures.
Overall Sensation
The biggest difference between the two types of jets is the general overall sensation in the bathtub or whirlpool. If you are looking to purchase a tub for hydrotherapy purposes, such as using the jets to deeply massage pressure points in your body, a water jet is your best option. The water bursts out of the jets at high pressures, working to massage out pain when positioned correctly against your body. It's a great option for athletes looking to work knots out of sore muscles or someone who wants to wake up their joints each morning with an invigorating massage.
If you want a more soothing, gentle sensation in your bathtub or whirlpool, you might want to opt for air jets. Water will still be flowing throughout the tub, but not at the high pressures of water jets, creating an overall sensation similar to a lazy river. It's best for people who might feel water jets are too painful or want to enjoy a more relaxing soak.
Pricing
Often, water jet systems are slightly more complex than air jets, meaning they can be a little more expensive, although this isn't always the case. Bathtub and whirlpool pricing can vary drastically depending on several factors, including the material the tub is built out of, the manufacturer and the construction involved with installation.
Maintenance
Air jets in bathtubs are incredibly easy to maintain because all they use is air. That means they're completely dry, and most models have a system that automatically dries the jets after use.
Water jets, on the other hand, circulate dirty bath water throughout the drains, thus requiring more care to prevent bacteria from forming. Luckily, it's pretty easy to keep clean. You simply run a purchased water jet cleaning solution into a bathtub filled with a few inches of water and run the jets for about 10 minutes. You should do this on a regular basis – maybe once a month if you use your bathtub a few times a week.
Ultimately, deciding on which jet is right for you comes largely down to personal preference. Although water jets require slightly more maintenance and could come in at a higher price point, they're still going to be the best option for people who want a deep massage from their bath. If your idea of bath time is more relaxing, an air jet might be best for you.