Easily one of the best parts of doing laundry is pulling a fresh load of clean, dry clothes out of the dryer. Hopefully, you've invested in a good dryer that will last in your home for many years. However, appliances do need to occasionally be replaced, and when replacing a dryer, buyers have two options: A gas-powered or electric-powered dryer. Although both have the same function and work in pretty much the same way, there are some key differences between a gas and electric dryer. Knowing these differences is the first step in ensuring that you purchase the right one for your home.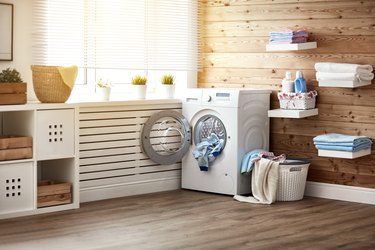 The Difference Between Gas and Electric Dryers
Gas and electric dryers actually both rely on electricity to some extent for power. Gas dryers have electric drums, lights, fans and operating controls but they employ gas for heat. Gas dryers connect to a wall through an outlet and also bring in gas using an external gas line. Electric dryers need electricity for all of their functionality and are usually plugged into a large wall socket.
Although gas dryers tend to generate heat faster than their electric counterparts, they are more expensive to purchase and require more time to install. Electric dryers need to only hook into a three- or four-pronged 240-volt electric outlet to work. Though more recently built homes typically have four-pronged outlets, many dryers are built to accommodate either type.
Gas dryers need a 110- to 115-volt outlet and a gas line for proper installation. Most homes come equipped with a 240-volt outlet for electric dryers. However, all homes don't have preexisting gas lines, and homeowners wishing to purchase a gas-powered dryer may need to also pay to have a line installed. Gas dryers are best for people who intend to stay in their home for at least five years. On average, installing gas dryers can cost an additional $100 to $150, and their retail price is also at least $50 more than an electric dryer.
Both dryers typically make use of vents to prevent the spread of mildew in small spaces and the disbursement of particles from the dryer. Because gas dryers rely on a burner to generate heat, their vents also prevent burning gas residue from becoming trapped inside. Electric dryers can either be vented or ventless. Ventless dryers can either condense or compress air to circulate it through the dryer and remove moisture from clothing.
Energy Considerations for Gas and Electric Dryers
Although gas dryers may have a higher upfront cost, the cost of sourcing natural gas is lower than electricity. Because gas dryers are also hotter than electric dryers, clothes have the potential to dry faster, thus reducing the amount of energy used.
According to The Consumer Energy Center, gas dryers can reduce energy costs by half, and users can expect to recover their initial investment in installing a gas dryer within one to two years. Natural gas is also a clean source of energy and less harmful to the environment.
Other Considerations
To cut costs and ensure the safest installation, homeowners should install a dryer based on what their home is equipped to accommodate. Users should also be sure they are taking proper general measures to keep their dryers in top working condition. Refrain from overloading dryers, clean lint traps regularly and keep the dryer in a warm place so that it doesn't have to expend more energy to heat up.