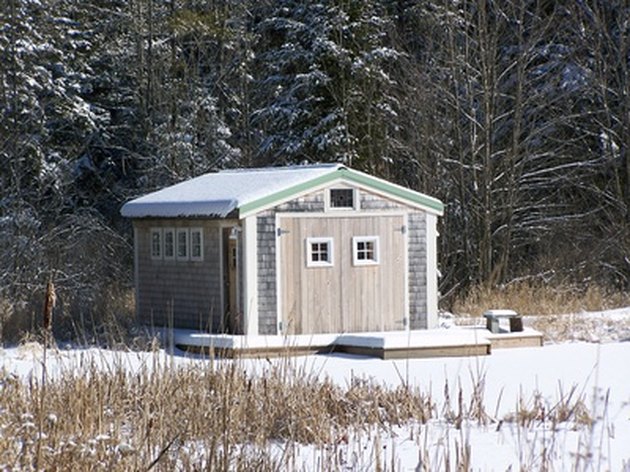 Building a 10 x 12 storage shed will give you plenty of storage room for those household items that never seem to have a place of their own. Often there is a need to store excess items outside the home, so a sturdy storage shed is ideal. Utilizing the materials that are needed will ensure that your shed is well built.
Foundation
A good foundation is key to having a well-built storage shed. Without the proper foundation, the shed may later falter. You need 2.3 cubic yards of crushed stone or gravel, along with 4.6 cubic yards of concrete to create a 4-inch slab. To strengthen the slab, embed 120 square foot of wire mesh, four 10-foot rods of rebar and four 12-foot rods of rebar in it.
Walls
Eight foot walls are more than adequate for a 10 x 12 storage shed. Use pressure-treated wood to ensure longevity. Four 2 x 4 x 12 sill plates are required for the bases of the walls. The 44 studs should measure 2 x 4 x 8. Four plates measuring 2 x 4 x 12 and five plates measuring 2 x 4 x 10 are needed. Several headers are required: four 2 x 6 x 12 and three 2 x 6 x 6. To cover the walls, use 10 sheets of exterior grade plywood that measure 1/2 inch x 4 x 8. External covering requires 230 square feet of your choice of siding.
Loft and Roof
Install a small loft in your storage shed to expand its capabilities. Complete this extra storage area with ten 2 x 6 x 10 floor joists and three sheets of 1/2 inch x 4 x 8 plywood. The roof is very important for a storage shed. Because it is constantly outdoors in the weather, the roofing materials should be good quality. Select 200 square foot of roofing material, such as shingles. To form the frame of the roof, use fourteen 2 x 6 x 8 rafters and one 2 x 8 x 14 for the ridge. Strengthen the roof with seven collar ties measuring 2 x 4 x 8. For the gable end of the roof, you need eight barge rafters that measure 2 x 4 x 8. Decking for the roof, which the shingles will be secured to, consists of seven sheets of 1/2 inch x 4 x 8 exterior grade plywood.
Doors and Windows
With only one door for a storage shed, limited supplies are needed, but include three door rails that measure 1 x 6 x 10 and four door stiles measuring 1 x 3 x 6. Three door braces are required; two that are 2 x 4 x 8 and one that is 2 x 4 x 12. In addition, one door and one double-hung window (2 x 4) are required.
Exterior Trim
The exterior trim pieces are what lend character to the storage shed, often giving it a polished look. These finish boards should be rated for outdoor use and be of a pleasing color. You need: two each of finish boards that measure 1 x 4 x 14 and 1 x 2 x 14, three each of 1 x 6 x 12 and 1 x 6 x 8, and four each measuring 1 x 4 x 8 and 1 x 2 x 8. You also need 12 finish boards that are 1 x 3 x 8.
Exterior Elements
Exterior elements that are typically included in a storage shed are the vents, cupola, drip cap and soffit. You need two louvered and screened wooden vents for ventilation. The cupola is optional but should measure 18 x 18 x 24 if you choose to include it. One 4-foot preformed drip cap is required, as well as one 1/4 inch x 4 x 8 sheet of exterior grade plywood.
Hardware
Of course, you can't build a storage shed without the proper hardware. To complete this project, you need framing nails or screws and roofing tar and nails. A nail gun or drill can make the job go faster, but a hammer is just as good. You should check your supplies carefully to ensure that you have everything before beginning to build your storage shed.
---
Marsanne Petty has been a writer and photographer for over ten years, and is currently pursuing the combination in tandem. She attended Madison Community College, receiving a degree in Administration. She has published several articles for magazines, including Jack Magazine, and the local newspaper, the Jasper News. Her latest creation, a pictoral history of Hamilton County, Florida, was published in early 2009 through Arcadia Publishing.