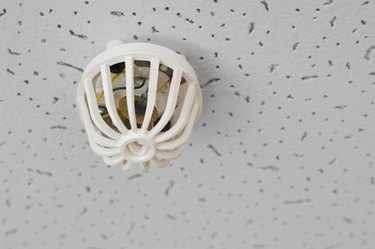 Smoke detector laws are designed to keep occupants of homes, rental units and public buildings safe in the event of a fire. Smoke detectors should be tested often by lighting a candle underneath them. Always make sure the detector has battery life or a consistent power source and never ignore them. Landlords must ensure all dwelling units are fitted with smoke detectors and tenants should ensure they are in good working order.
The Minimum
The number of smoke detectors required within an apartment or home varies from state to state. Local municipalities have the right to create their own smoke detector guidelines. Most regions require at least one smoke detector to be located outside of every bedroom within every habitat. Depending on when the home was constructed, fire marshals may require smoke detectors to be located inside and outside the bedroom. The purpose of these laws is to make sure residents are alerted of a fire while asleep. Without properly working smoke detectors, sleeping residents may not become aware of a fire until it is too late.
Types
There are two different types of smoke detectors you may be required to install: photo electronic smoke detectors and ionization smoke detectors. Photo electronic smoke detectors are designed to detect heavy amounts of smoke, as opposed to actual flames. These types should not be placed near kitchens or bathrooms where steam can set them off. Ionization smoke detectors are designed to detect flames rather than smoke. Many states, including Massachusetts, require homes and residential buildings to be equipped with both types of smoke detectors for added protection.
Hotels
Hotels are required by law to have properly working smoke detectors to increase safety for residents. Different states create their own laws regarding the types of smoke detectors that are required. In Texas, for example, smoke detectors in hotels must emit a sound as well as a strobe light. The strobe light is to ensure that the hearing impaired will be altered of a fire.
Daycare
Those who operate a daycare facility should be aware of the smoke detector laws that apply within their state or county. The purpose of these laws is to ensure the safety of the children and staff. Smoke detectors must be located on every floor of a daycare facility, including nap areas. The detector itself must be tested on a monthly basis to ensure it is in good working order.
---
Based in California, Noel Shankel has been writing and directing since 2002. His work has been published in "Law of Inertia Magazine." Shankel has a Bachelor of Arts in film and writing from San Francisco State University.