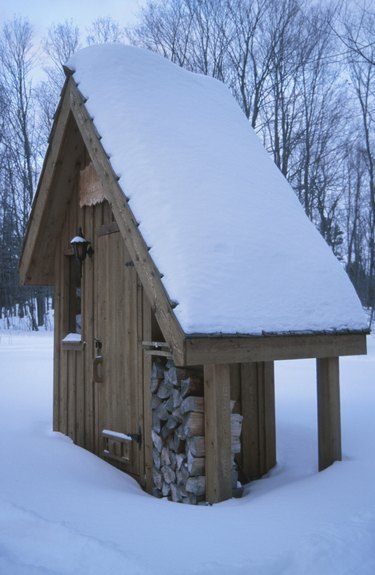 A 12-by-12-foot wood shed provides a valuable storage area that will make a tremendous difference in the organization and space in your home's interior or garage. The shed provides a safe area to store your extra firewood, as well as other seasonal supplies that you want to protect from the elements.
Wood
Wood will be your biggest expense when constructing your 12-by-12 shed. Treated wood posts can provide the legs for your shed, as well as the frame. Treated wood can also form the exterior of your shed in the form of wooden siding, and 2-by-6-foot boards provide the framing for your floor. Wooden joists and rafters help form your floors and ceiling. You also need wood to form a door header.
Plywood
Use plywood to complete various aspects of your shed project, including the floor. You may opt to use plywood siding on the exterior to save money off the cost of real wood. Plywood is also used for window headers and for a spacer for the door header. Use treated plywood for any areas that may come in contact with rain or snow. Half-inch plywood sheets help complete your roof.
Paint
After you finish constructing the shed, you will likely want to paint it. Choose a paint color that coordinates with your home or design style. Primer will help the paint adhere better. Stock up on related paint supplies, such as paint brushes, trim brushes and painter's tape.
Concrete
If you will be storing a lot of firewood or heavy supplies, you may opt to use concrete for an alternative flooring. A concrete slab floor is an alternative. Cinder blocks can help level a wooden floor if you don't want the wood to come in direct contact with the ground.
Exterior Items
You have several options for the exterior siding of your shed and roof. Wood, plywood or vinyl can all provide siding. Shingles are another option. Roofing felt should be added to the roof if you plan to install a shingle roof. Corrugated fiberglass is another roofing option.
Door
Depending on the design for your wood shed, you may or may not need a door. If you plan to leave an opening through the front so you can easily throw in firewood, you won't need a door. Otherwise choose an exterior door to match your design and purchase a knob or a latch.
Gravel
Gravel will provide a draining base for your project. This will prevent the wood posts and wood flooring from getting wet from any water. Dig a 12-by-12-foot hole and cover it with 2 inches of packed gravel.
Tools
You need several tools to complete your project, including a hammer, nail gun and drill. You also need a variety of nails, including 16d nails to form the wooden floors, 8d galvanized nails for use with plywood and 1 3/4-inch nails to secure shingles to your roof.