Concrete is a common material for many types of interior and exterior construction. Concrete offers many advantage over other materials, with superior durability, water resistance and resistance to rotting and fire. Concrete walls, floors and ceilings are often used for multistory construction due to its low cost and low maintenance. Concrete ceilings are often given a skim coating of drywall compound to improve the appearance of the material.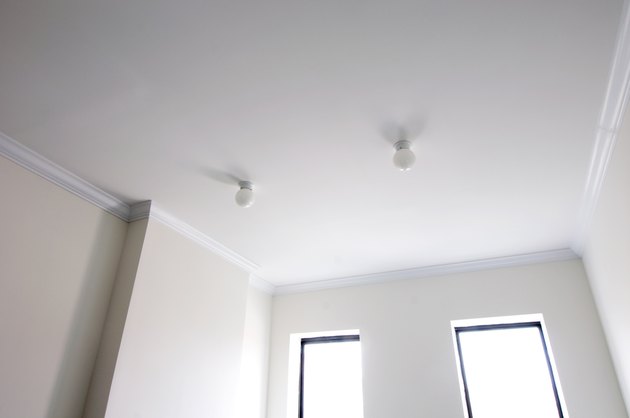 credit:
Jupiterimages/Photos.com/Getty Images
Concrete ceilings are often found in multi-unit construction, such as apartments and condominium buildings. Concrete ceilings are installed in a number of ways. The ceiling may be poured and the forms then removed. Concrete may also be poured onto corrugated metal with sprayed concrete and textured on the surface. Another method uses concrete planks that are set and secured into position. The joints are then leveled and coated to cover.
Skim Coating Concrete Ceilings
The condition of concrete ceilings can vary widely, with some being rough in appearance and others smooth and attractive. Often, a thin coating of plaster or drywall compound is spread over the surface to give it a level and uniform appearance that is suitable for paint or texture to make an acceptable ceiling for interior rooms. This is called the skim coat. Skim coating may be applied in several layers, as needed, depending on how much leveling the concrete requires. Sometimes, when the end result continues to show an uneven surface, popcorn texture is added to hide the flaws.
Preparation for Skim Coating
Concrete ceilings must be properly prepared to achieve a good final result. The surface must be clean of all dirt, grease, dust and sand. Concrete should cure for at least 60 days before a skim coat is applied. A concrete primer is then applied to a allow good adherence of skim materials, according to the TM Pratt website. The primer smooths the surface of the concrete, helps it resist mold and mildew growth, prevents cracking or peeling, and improves adhesion for surface compounds.
Either plaster or joint compound can be used for skim coating concrete ceilings. The wet plaster or drywall "mud" must be mixed so it is easy to spread ,but not so thin that it will drip from the ceiling. Apply a thick coat of the compound over the surface with back-and-forth strokes, holding the knife at an angle as you draw it over the surface of the ceiling. Skim the excess compound from the surface with parallel strokes, leaving a thin, even layer. When you keep the knife clean by wiping its edge after each stroke the layered effect is easier to achieve, according to online resource Do-It-Yourself-Help.com. As the compound sets, remove any ridges with 120-grit sandpaper. Wipe the ceiling with a damp cloth before going on to apply a second coat.