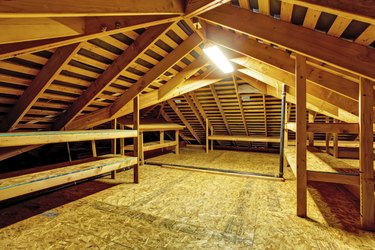 Attic storage might be a good idea, but other issues such as insulation, joist spacing and intended usage should be taken into consideration. Plywood flooring thickness is important for proper weight distribution.
Weight and Joists
Attics are not designed to distribute a considerable amount of weight. Attic design includes ceiling joists that are typically designed to hold up the roof. Check with a builder or engineer to ensure your attic can support the extra weight. Another issue involves insulation. If your attic is properly insulated, it's likely that the insulation extends up past the ceiling joists. Smashing the insulation down with plywood can interfere with the insulating properties of the home.
Sizing the Plywood
No matter what the spacing is on your ceiling joists, 3/4-inch plywood should be used if you plan on walking on it. If you plan on placing the plywood around the perimeter of the opening or door and using it only to store light boxes or materials, 1/2-inch-thick plywood should suffice. But there's no real reason to use plywood thinner than 3/4 inch; the cost savings is insignificant compared to the extra support offered by the thicker material. Plywood comes in large sheets. It might seem impossible to haul it up to the attic. Cut the plywood into manageable strips about 10 inches wide to make the job easier. Install two-by-four blocking between joists, or wherever needed, to support edges of the plywood that do not have support from the bottom.