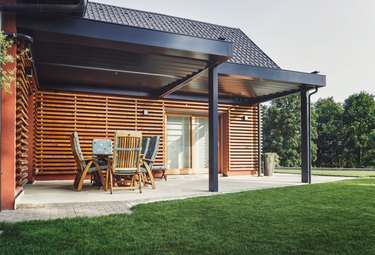 Patios extend a home's living and entertainment space, regardless of simplicity or lavishness. Adding a roof to the patio can further increase the patio's function so it can be used in more types of weather and climates. Various factors should be considered prior to making a roof addition on a patio. Some of the most important considerations include material type and cost.
Average Cost
The average cost for a patio roof addition using low-maintenance wood-patterned aluminum runs for about $6,000 to $10,000 for an area of 20 by 20 feet, as of 2011. A screen can be added for an additional cost of $3,000 to $4,000. Adding a wood lattice roof can range between $500 and $10,000. There are other patio covers available that range from a $50 large outdoor umbrella to awnings that cost between $300 and $800. Mechanical awnings cost between $1,000 and $2,000.
Types of Materials
Many different types of roofing materials can be used to build a patio roof, including stainless steel, copper and regular steel, but they all are more costly than aluminum sheeting. Other materials include fiberglass, which is available in translucent sheets that allow natural light to come in, likely minimizing the cost of electrical expenses. Solar panels are another material option that will help the electrical costs but also cost more to install than most roofing material. Meet with your area's solar energy expert to determine if it is feasible to save enough power with this type of patio roofing to make up for the upfront cost of installing the panels.
Material Considerations
One very important consideration to keep in mind when shopping for roofing materials is the weight. It is important to be sure the existing patio construction can hold up the weight prior to deciding on what material best fits the patio and the budget. In case the walls are also being added to the existing construction, the roofing materials should be decided before constructing the walls to make sure they are a good match.
Cost Considerations
Regardless of the type of roof material used, a vent is required. Vents boost air circulation all year long. They also reduce the accumulation of moisture during the warmer months of the year while increasing warmth during the colder months. Patio roofs being installed near trees that are taller than the roof and as close as 10 feet also need tree protection.