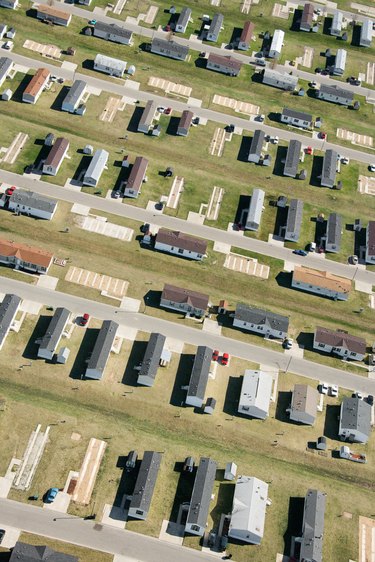 With the price of housing still beyond the reach of many families, many people are turning to double-wide mobile homes as their first residential purchase. These structures are cheaper than permanent houses, although homeowners are often charged monthly rent for the land on which the double-wide sits. The cost of roofing for these mobile homes varies by material.
Calculations
Because modern mobile homes have rooflines similar to permanent houses, the costs of roofing for both types of structures are the same and depend on surface area. For example, assume a home measuring 26 feet and 6 inches by 60 feet. Multiplying the two values yields 1,600 square feet. Multiplying this square footage by a standard multiplier of 1.35 for an average pitched roof yields 2,160 square feet of area. This surface area that needs to be covered by roofing material is the same whether the structure is a permanent house or a mobile home.
Asphalt
Asphalt is a popular roofing material for all types of homes, including double-wides, because it is inexpensive, durable and low-maintenance. The typical cost of the material from a professional contractor is $1 to $2 per square foot. Adding installation brings the square-foot price up to between $2.75 and $4.50 as of October 2011, according to Cost Owl. Using our 2,160-square-foot example puts the total cost at $5,940 to $9,720, depending on quality. Cheaper shingles may last only 10 years, while high-quality versions can last as long as 25 years.
Metal
Metal roofs are also a common choice, especially for double-wides with more modern profiles. They are commonly made of steel, followed by iron and copper. This type of material is naturally fireproof, which often gives the homeowners discounts on homeowner's insurance. Metal roofs are also more energy efficient than standard shingle roofs. A metal roof with medium pitch costs about $4 to $5 per square foot installed. This makes the total of a 2,160-square-foot roof cost between $8,640 and $10,800. Metal roofs are typically put over an old roof, which can add insulation value.
Considerations
One factor that can increase the cost of a double-wide roof is accessibility. If roofing trucks have no room to maneuver through narrow mobile home park roads, or if the structure is blocked by trees or other mobile homes, costs can go up considerably. The cost of roofing labor is a major factor. As of May 2010, the Bureau of Labor Statistics puts the average wages of roofers at $18.21 per hour. Those in Hawaii cost 40 percent more at a mean of $26.20 per hour, while those in New Mexico are paid almost a quarter less at a mean of $14.11 per hour.