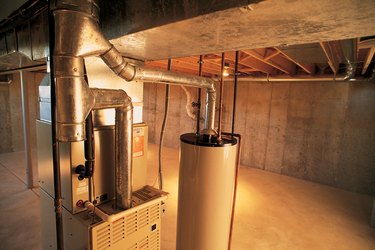 A waterproofing chemical for masonry walls and floors, DRYLOK is ideal for basement walls and areas where water is seeping in through the concrete. You can also use DRYLOK on any interior masonry surface containing paint that has similar waterproofing qualities as DRYLOK. The interior paint on the concrete surface must be in good condition -- not peeling or cracking.
Waterproofing Issue
DRYLOK loses its waterproofing ability when applying the chemical over painted walls or flooring containing latex or oil-based paint. The chemical cannot seep into the masonry's pores due to the paint. You can still apply DRYLOK over latex or oil-based paint but the chemical will not prevent moisture from seeping in through the concrete wall or flooring.
Conditions
The painted walls or flooring you want to coat with DRYLOK must be free of any dust, dirt and debris -- completely clean. Otherwise, the chemical will not adhere properly to the surface. Use a piece of 200- or 220-grit sandpaper to smooth out any rough areas on the painted wall including peeling and cracking paint. Wipe the walls or flooring with a wet cloth to remove any debris left after sanding.
Testing Paint
Dip a cotton ball or swab in a bottle of alcohol. Rub the cotton ball or swab back and forth over a small area of the wall or floor you want to paint. If paint transfers onto the ball or swab, the paint on the wall or floor is latex. If it doesn't come off, the paint is oil-based.
Applying
Move any furnishings and rugs out of the room or area you want to paint. Open any windows and doors leading into and out of the room so air can flow throughout the area. Place drop cloths over any areas you don't want DRYLOK to splash on. Use a stiff-bristle brush or paint roller to apply DRYLOK to the painted wall or floor. The waterproofing chemical is thick and rolls on easily over other paints.
Drying and Additional Coat
Let DRYLOK dry for 24 hours and then apply a second coat of the chemical using a brush or masonry roller. DRYLOK will roll on smoothly over the first coat. Again, open any windows and doors in the room or area you are waiting so air can flow properly and keep any fumes from overcoming you. Let DRYLOK dry overnight before moving furnishings back into the area.