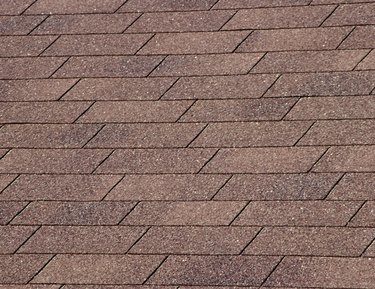 Rubber roofing is a roofing material made of a single-ply synthetic material known as ethylene propylene diene monomer. Asphalt shingles, on the other hand, are made of either inorganic or organic asphalt-saturated fiberglass covered with rock granules. Asphalt shingles are more common and inexpensive than rubber roofing. Rubber roofing is designed specifically to go on flat roofs while asphalt is intended for sloped roofs. Rubber roofing material can go on top of an asphalt roof during the installation process as well.
General Costs
Roofing material usually is measured by the square, which basically refers to 100 square feet. When comparing the price of rubber roofing with that of asphalt roofing, rubber roofing typically costs $300 to $400 per square, at the time of publication. This is three to four times the cost of asphalt roofing, which often is less than $100 per square. Although rubber roofing is more expensive, it usually lasts twice as long as asphalt shingles and additionally saves on energy costs.
Professional Laying Costs
Companies typically charge $2.50 to $4.50 per square foot to lay rubber roofing down professionally, at the time of publication. Meanwhile, laying asphalt roof shingles on a home usually costs $1 to $4 a square foot. For example, laying a roof on a 2,100-square foot home would cost between $5,250 and $9,450 for a rubber roof, while the cost would range from $2,100 to $8,400 for an asphalt roof.
Extra Rubber Expenses
When installing a rubber roof, considering the other expenses involved is crucial for determining your overall roof cost. For instance, rubber roof membranes cost about 50 cents to $1.50 per square foot, as of the time of publication. If you wish to install this type of membrane yourself, a cost of about $1,400 to $2,600 is common when doing this on a mobile home that is up to 16-by-50 feet if you wish to add insulation beneath the membrane. Membrane installation costs for a single family home typically range from $650 to $1,800 for a single home with a flat roof that is 30-by-30 feet.
Extra Asphalt Expenses
If you want to install an asphalt roof without the help of a professional, a cost of between $680 and $3,700 is typical for the price of the shingles, as of the time of publication. Removing old asphalt roof shingles often carries a price tag of a little more than $500 to a little more than $1,000 for a ranch-style home that has an average of about 1,900 square feet. In addition, another $1,000 to $10,000 must be included for adding roof trusses or rafters to support the new asphalt roof's weight.
---
YaShekia King, of Indianapolis, began writing professionally in 2003. Her work has appeared in several publications including the "South Bend Tribune" and "Clouds Across the Stars," an international book. She also is a licensed Realtor and clinical certified dental assistant. King holds a bachelor's degree in journalism from Ball State University.