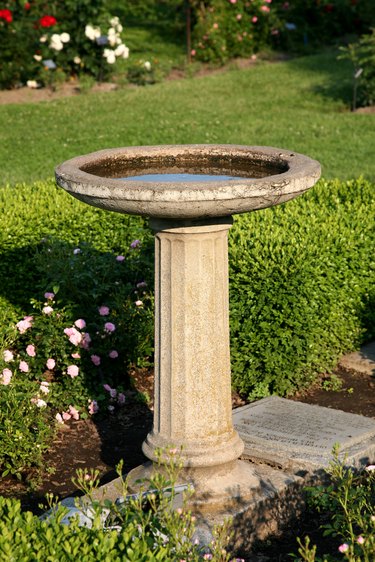 Like any outdoor surface, if you would like to paint a concrete birdbath, you must use a paint that can hold up in any type of weather. Since the paint of a concrete birdbath also faces constant exposure to water, a waterproof paint is even more essential to a lasting paint job.
Primer
Concrete is a porous material that absorbs many liquid substances, including nearly any type of paint. You can fill the pores in concrete and create an adhesive surface for paint by priming the concrete birdbath before painting. Buy a primer that states on the packaging that it is intended for use on concrete surfaces, and apply the primer evenly over the surface of the birdbath with a paintbrush. Allow the primer to dry, and apply at least one additional coat.
Paint Types
When painting a concrete birdbath, you must keep three factors in mind. The first is that the birdbath sits outdoors constantly, the second is that the paint will be constantly exposed to water and the third is the safety of the birds. Since most exterior paints are weather resistant, those paints should also be water resistant, so purchase a paint that is labeled as an "exterior" or "outdoor" paint. Alternately, you can color the concrete with a concrete stain or dye.
Painting the Bath
After you apply at least two coats of primer to a concrete birdbath, you can paint the bath as you would paint any other surface. Apply an oil-based outdoor paint, which sticks more effectively to concrete, to the bath with a paintbrush as evenly as you can, and allow the paint to dry for 24 hours. Once the paint dries, cover the concrete birdbath in an additional coat. If the color is as dark as you want it, you can then finish the bath before adding water.
Finishing the Bath
Most exterior paints are made so that they dry with a weather-resistant surface that is more difficult to chip or water damage than indoor paints, but these paints, and any concrete stains, should be further waterproofed to prevent the paint or stain from entering the water of the birdbath. Apply a waterproof sealant, such as polyurethane, which is safe for birds according to Tufts University, over the finished paint job once it dries on the bird bath in an even coat. These sealants dry clear, or nearly clear, so won't alter the paint color on the birdbath.
---
Alexis Lawrence is a freelance writer, filmmaker and photographer with extensive experience in digital video, book publishing and graphic design. An avid traveler, Lawrence has visited at least 10 cities on each inhabitable continent. She has attended several universities and holds a Bachelor of Science in English.