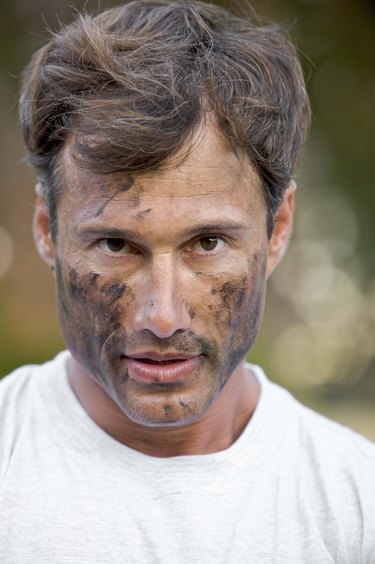 Heavy rains may lead to swamp-like conditions in the yard that needs to be dried quickly to prevent animals from destroying lawns or to enable transport of a mower or wheelbarrow through the yard without getting bogged down. Regardless of lot size, slope or soil and foliage composition, there is a variety of options for covering a muddy yard quickly.
Straw
Residents who need a quick, temporary and inexpensive solution to cover a muddy yard should contact their local feed store for hay bales. Purchasing a round bale or several square bales will cover an average city lot and allow pets to romp outside without tracking the wet yard back inside across your clean floors. The disadvantages to straw yard coverage is that hay tends to hold in soil moisture, so covered yards may take longer to dry, and because it is so light and flimsy, it will not hold up very long against strong winds or heavy foot and paw traffic, so it may need several reapplications during the rainy season.
Gravel
Gravel is fast to install on muddy yards and offers a permanent solution for perpetually soggy ground. Most residents prefer the look of a grassy lawn to an uninviting layer of pulverized rock, so property owners who need to cover their muddy yard should place gravel in strategic areas, such as the ground under large shade trees, which typically takes longer to dry than soil exposed to direct sunlight for the majority of the day, rather than covering the entire yard.
Shingles
Lot owners who need to cover a section of yard in order to drive a car or truck through will find roofing shingles a tremendous help. Laying out a temporary path across the lawn about 6 feet wide enables drivers to cross a muddy yard without fear of spinning tires, sinking and becoming stuck until the lawn dries out. Although the shingle path is not attractive, and covering the entire yard is cost-prohibitive as well as detrimental to the grass, it is a fast solution to make a muddy yard traversable by motor vehicles.
Organic Mulch
Of all the quick ground coverings, wood mulch is often preferred because of its organic composition, appearance and resilience. Unlike straw, mulch will remain on the lawn for up to a year before it needs replacing. Most commonly in flower beds, mulch is a more attractive ground covering than gravel and is available in multiple colors. Although mulch is more expensive, landscape merchants may offer discounts on bulk orders, and there are several types of mulch available, so comparing prices may save yard owners some money over higher-end chips.