It's no fun to flick on a light only to realize that your lampshade has a giant stain sitting on it. There are many different cleaning methods, products and tools that can help remove stains from all types of lampshades. An understanding of these methods as well as what caused the stain in the first place can help you get rid of even the most stubborn spots.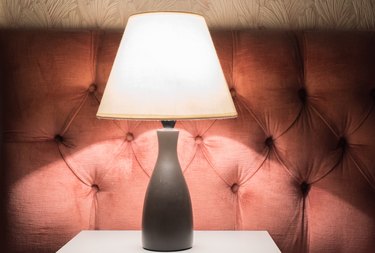 Determining the Cleaning Method
Before attacking a lampshade stain with heavy-duty cleaning products, it's important to determine two things. First, you should try to figure out what caused the stain. Second, you need to determine the kind of material from which the lampshade is made. This is because materials react differently to various stain-removal products. For instance, bleach is a super-effective tool for getting rid of grass stains on white T-shirts. However, bleach on a brightly colored silk lampshade could weaken or even completely ruin the delicate material.
If you have a paper lampshade, it can be relatively easy to remove any kind of stain with the kind of gum eraser that you may have used in school. Gingerly rub out the spots with the eraser, taking care not to rub so rough as to rip the shade.
Many lampshades are made of cloth or durable fabric. For these kinds of shades, you can use the same kind of stain remover you might use on laundry stains, such as Clorox, OxiClean or a Tide To Go stick. For more delicate fabric lampshades like silk or linen, it's best to use a soft-bristled toothbrush or microfiber cloth dampened with warm water and mild dish soap.
Brightening a Dusty Shade
Sometimes, you may find that your lampshade doesn't have one specific stain on it but has grown yellow or brown over time. This is normal since they're often in a perfect position to collect dust and cobwebs and even grow mildew. Sometimes, they just yellow with age, even without being particularly dirty.
It's usually pretty easy to brighten a yellowed or dusty lampshade. First, use a handheld vacuum cleaner to suck up any big pieces of dust or lint. If the lampshade is textured enough, you could also try using a lint roller like the one you might use for pet hair on a sweater.
For spots that are tougher to remove, wet a soft microfiber cloth with warm water and a few drops of the gentlest soap you have. Baby shampoo or a mild laundry detergent are both great options. Carefully scrub the lampshade with the cloth, adding more soap and water as needed. If you can remove the lampshade entirely, you can also let it soak in a tub full of the warm soap and water mixture for up to 15 minutes, which may allow some of the stubborn discoloration to leak off. If your lampshade is sensitive to dampness, you may want to use a hair dryer or other tool to dry off the lampshade in order to prevent mildew growth or further staining.
Lampshade Cleaner Sponge and More
Sometimes, tough spots require more than the tools you likely already have around the house. For hard to remove grime, you might want to up your product game.
One great tool is a lampshade cleaner sponge. These are small sponges designed to gently remove dust, pet hair, lint and dirt from lampshades made of delicate fabric. If a microfiber towel isn't doing the trick, this tool can often pick up more debris than a simple cloth but without being as harsh as the sponges and cleaning brushes designed for harder surfaces. You could also try scrubbing those spots with a soft-bristled toothbrush.
For linen lampshades, you might want to check out a spot remover designed for sensitive fabrics, such as the one you would buy for cleaning a linen frame mat or car upholstery. A product like K2r Spot Lifter can usually get out even the toughest stains without harming the fabric. With so many products and techniques for cleaning dirty or yellowed shades, you should be able to get your lamp looking brand new in no time.