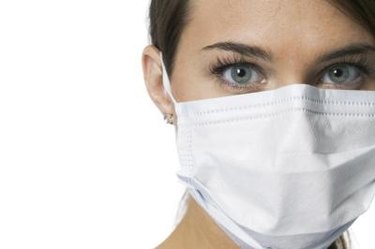 Knockdown texture is achieved when joint compound or plaster is blown onto a wall or ceiling and then knocked down with a trowel to minimize the appearance of the texture. Removing the knockdown texture reveals the original drywall behind it. This DIY friendly project is time consuming and messy, but requires no specialized carpentry skills. Taking the time to complete the preparation prior to removing the knockdown texture will make cleaning up faster.
Preparation
Step 1
Remove everything from the room in which the knockdown texture is to be removed.
Step 2
Turn off the power to the room you're working in.
Step 3
Remove all light fixtures and ceiling fans.
Step 4
Cut heavy plastic to size and tape it over outlets, light switches and register vents. Use low tack tape to tape the plastic so no water gets inside.
Step 5
Lay plastic over the floor. Run the plastic up the walls and above the baseboards. Tape the plastic to the walls with low tack tape so the floors and baseboards are protected.
Removing Knockdown Texture
Step 1
Fill a pump up sprayer with warm water. Add two tablespoons of liquid dish washing detergent to each gallon of water in your sprayer. Add the detergent after the sprayer is full to avoid bubbles.
Step 2
Work in 4 by 4 foot areas. Spray the first area with water and allow it to sit for fifteen minutes. Scrape the knock down texture off the wall using a floor scraper. Use gentle strokes when removing the texture so you only remove the texture and avoid damaging the drywall behind it. Continue wetting and scraping the surface until all of the texture has been removed.
Step 3
Visually inspect the surface. Fill any holes or dents with joint compound. Sand any rough spots and clean with a tack cloth. Prime and paint the smoothed surface.