Things You'll Need
Vacuum cleaner

Stiff broom or shag rake

Soft cloth

Clear dish detergent or liquid laundry detergent

Color-safe bleach (optional)
Tip
Take badly soiled shag rugs to a dry cleaner who has experience cleaning your type of rug. For large, badly soiled shag rugs, call a reputable carpet cleaner who will come to your home.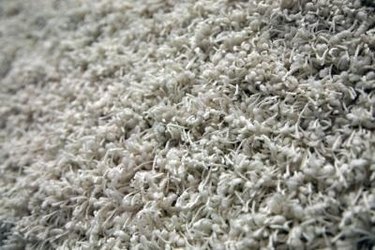 Whether your shag rug is a large, room-size rug that covers most of your floor or a smaller throw rug in front of your bed or sofa, a shag rug provides depth and interest to a room. Although maintaining the long fibers of a shag rug requires more effort than a regular, short pile rug, the effort will be repaid with a luxurious rug that continues to add warmth and style to your home for many years.
Step 1
Take your shag rug outdoors and give it a good shake to remove loose dust and debris. Hold one end of the rug and give it several firm shakes, then hold the other end of the rug and repeat.
Step 2
Vacuum larger, room-sized shag rugs at least once every week. Set your vacuum's brush to the highest level so the fibers won't be damaged or caught in the brush. Alternatively, use your vacuum cleaner's hose and upholstery attachment.
Step 3
Sweep your larger shag rug several times every week using a stiff broom or a rake created specifically for shag rugs. A quick sweeping will prevent the long fibers from becoming mashed, and it also will prevent dirt from becoming embedded deep in the rug.
Step 4
Clean spills immediately, according to the directions that came with your rug. Blot the spills as soon as possible with a soft cloth. Treat stains with a few drops of gentle, clear dish detergent or liquid laundry detergent mixed with water, or as directed by your rug's manufacturer. Alternatively, use a color-safe bleach according to the directions on the container. Test any cleaning solution on a hidden area to be sure the solution won't affect the colors of your shag rug.
Step 5
Turn your shag rug 180 degrees at least once or twice every year to prevent uneven wear or fading.
---
M.H. Dyer began her writing career as a staff writer at a community newspaper and is now a full-time commercial writer. She writes about a variety of topics, with a focus on sustainable, pesticide- and herbicide-free gardening. She is an Oregon State University Master Gardener and Master Naturalist and holds a Master of Fine Arts in creative nonfiction writing.