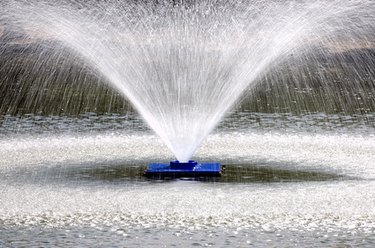 Water pressure gauges attached to home water lines can malfunction. In an emergency or a disaster scenario, they may cease to function. Or perhaps you need a physics project based on the real world. Here are two methods for measuring home water pressure independent of the utility company's water pressure gauge.
Method 1
Step 1
Attach the water hose to the outdoor water spigot. Turn on the water spigot so water courses through the attached water hose.
Step 2
Raise the end of the garden hose as high as possible. Continue raising it until the water stops coming out.
Step 3
Measure that elevation from the water faucet. The elevation is the pressure in water-feet.
Step 4
Divide that elevation by 2.31. (The approximate conversion of water-feet to pounds per square inch of 2.31 comes from 144 square inches to a square foot divided by the density of water at 62.4 pounds per square foot. The result of this is 2.307692308, or a rounded-up 2.31. This converts the water-feet into pounds per square inch.) The result is the approximate water pressure.
Method 2
Step 1
Acquire a pressure gauge that screws onto a water faucet.
Step 2
Attach the pressure gauge to the water faucet.
Step 4
Measure the reading on the attached pressure gauge.