Things You'll Need
White vinegar

Spray bottle

Timer

String (optional)

Paper (optional)

Marker (optional)

Dish soap

Wire bristle brush
Tip
According to paving expert and author Tony McCormack, white vinegar is particularly useful in removing rust stains. However, McCormack cautions that just because vinegar works on one particular type of paver does not mean it will work on them all.
If petroleum avoidance is an important issue, choose a dish soap that is not made with petroleum, such as castile soap. Check natural food and health stores for these soaps if you cannot find them in general merchandisers or supermarkets.
Warning
Avoid using other types of vinegar to try to clean your pavers. White vinegar has no color from natural or artificial dyes, and does not cause you to risk staining your pavers through using it. Use of darker vinegars, such as balsamic or red wine, may have unintended staining consequences.
If you are planning to use a solvent sealer on your pavers, do not use white vinegar to clean them beforehand. It may react with the sealer and create a permanent milky residue.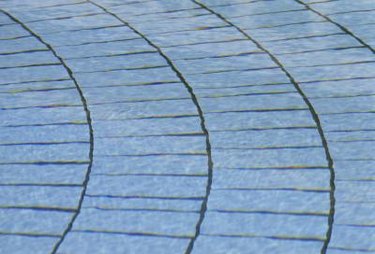 White vinegar is a nontoxic, environmentally friendly cleaner that will not harm you, your children or your pets when you use it to clean your pavers. While the smell may be objectionable to some, it disappears as the vinegar dries. Some white vinegars are distilled from petroleum, according to green housekeeping author Ellen Sandbeck. If part of your motivation for using vinegar is a cleaning product is to move away from petroleum-based products, look for white vinegar that states that it is "made from grain" on the label.
Step 1
Apply white vinegar to dirty and stained pavers with a spray bottle, so that it distributes evenly. Thoroughly soak the affected areas with the vinegar. Empty spray bottles are available at your local hardware store.
Step 2
Set a timer for one hour, and ignore the pavers for that entire time. If pavers are in a high-traffic area, cordon the pavers off with some string and a sign that says not to walk on them. A simple sign made with a piece of paper, a marker, and some tape is all you need.
Step 3
Spray the pavers with dish soap and water, and then scrub away with a wire bristle brush to remove any remaining particles of dirt or stain. The vinegar will have loosened and even removed some of the stain on its own, but scrubbing will do the rest.
Step 4
Repeat the entire process if pavers are not as clean as you would like.