Warning
Resetting the keypad lockout code instead of entering the programmed code will delete your thermostat's programmed settings.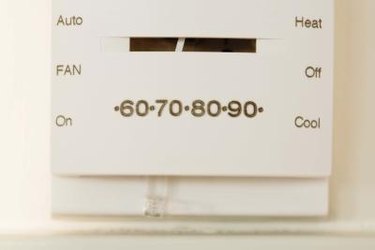 White Rodgers, a division of Emerson Electric Co., manufactures heating and cooling equipment for residential and commercial facilities. Among the products manufactured by White Rodgers, are digital thermostats for controlling the heating and cooling units in a building. One of the features of White Rodgers thermostats is a keypad lockout which prevents unwanted use of the thermostat. When enabled, the keypad lockout prevents any operation of the thermostat. To use the thermostat again, a user must unlock the device.
Touchscreen Thermostats
Step 1
Press "Menu" on the touchscreen to open the thermostats main menu and tap "Installer Config."
Step 2
Touch the left or right arrow buttons to scroll through the numbers until you reach the three digit keypad unlock number. The keypad unlock number is created during the installation of the thermostat.
Step 3
Tap the up arrow button to unlock the thermostat after entering the number.
Step 4
Force the thermostat to unlock if you do not know the keypad lockout code by touching the "Menu" button and holding your finger there for approximately 20 seconds. When you first touch the "Menu" button it will disappear. Keep your finger in the same location until the thermostat unlocks.
Button Operated Thermostats
Step 1
Press the up and down arrow buttons simultaneously. The number "0" will appear on the thermostat's LCD screen.
Step 2
Enter the keypad lockout code by pressing the up or down arrow button until your combination number appears on the screen. The keypad lockout code is created when the thermostat is installed.
Step 3
Push the "System" button on the thermostat when the correct code is entered to unlock the thermostat.
Step 4
Reset the keypad lockout code if you do not know it or remember it by pressing the up and down arrow buttons simultaneously until the "0" appears on the LCD screen. Press the up arrow, down arrow and "System" buttons at the same time to reset the keypad lockout code.
---
William Pullman is a freelance writer from New Jersey. He has written for a variety of online and offline media publications, including "The Daily Journal," "Ocular Surgery News," "Endocrine Today," radio, blogs and other various Internet platforms. Pullman holds a Master of Arts degree in Writing from Rowan University.