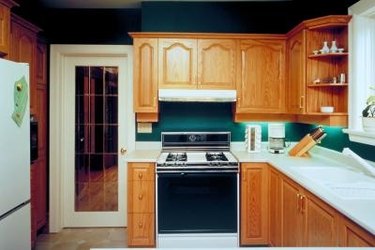 LG manufactures many types of home appliances, including refrigerators, ranges, microwaves, washers and dryers. LG assigns a serial number to each appliance, ensuring that no two items bear the same number. The serial number, which can be found on a sticker or metal plate located on the appliance, is used by LG to keep a record of the appliance. The serial number is always needed when any repairs are performed, or a service call is made to LG. Additionally, the serial number can help to identify specific information about the appliance, such as when and where it was assembled.
Step 1
Look for a sticker on the appliance's original packaging. The sticker will contain several numbers and bar codes. On most LG appliances, the serial number will also be listed on this sticker, under a label such as "Serial," "Serial Number," or "S/N."
Step 2
Open the door on your LG appliance. Often, the sticker containing the appliance's serial number will be located on the door jam, or on the inside wall of the appliance. Additionally, the sticker may be placed on the bottom of the door. Again, the serial number is identifiable by the label "Serial," "Serial Number," "Ser. No." or "S/N."
Step 3
Look on the side and rear of the LG appliance for the serial number sticker. If the sticker is placed on the side or rear of the appliance, it will often be located in one of the upper or lower corners.