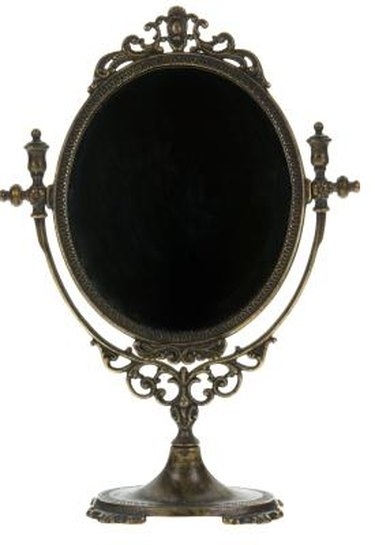 You might think that a large chip in your mirror ruins it forever, but you can repair most such chips yourself. The surfaces of mirrors are made of clear glass, with a thin silver backing beneath the glass. This silver backing beneath the glass is far more difficult to repair than the glass that sits on top of it. You can repair the damage in a chipped mirror with a standard windshield repair kit. You can also fix small chips at the edge of your mirror even more inexpensively by using special diamond hand-sanding pads.
Step 1
Dry off your mirror completely. If you just brought it to your workspace from someplace very warm or very cold, allow it to reach room temperature in its new location before attempting any repairs.
Step 2
Peel off one side of the adhesive strip's backing and place the strip directly over the chip. Press the strip firmly against the chip with your thumbnail. Peel off the remaining adhesive backing, which is facing you. Place the plastic adapter piece that came with the kit on the adhesive strip, directly on top of the chip.
Step 3
Open the syringe's cap and insert the pointed end of the syringe into the adapter. Set your timer for one minute right before you pull out the syringe's plunger. Hold the syringe like this until the timer rings.
Step 4
Release the syringe's plunger quickly. Repeat this process several times. This repairs the chip in your mirror, as well as any cracks emanating from it.
Step 5
Remove all the repair components from the glass. Soak the corner of a cloth with alcohol, and rub that corner over the area to pick up any wisps of adhesive from the strip. Allow the adhesive to cure as directed on your repair kit's packaging.
Step 6
Shave off any raised adhesive from your chip repair with your razor blade. Use a very sharp blade for the best results.
Step 7
Repair unframed, chipped edges on your mirror by sanding them down to a more uniform appearance. First wet your pads before sanding the areas with long, light strokes. Start with a rougher grit diamond hand-sanding pad, such as a 70-grit surface, and work your way up to the higher-numbered, superfine grits.